Legal Online Horse Betting Sites
Horse races are some of the most bet-on sporting events in the entire world and that draws a big need for legal horse betting sites. While the three Triple Crown races held annually in the United States get plenty of attention, there are many more big events held in the U.S. and around the world as well.
Thoroughbred racing is very well covered at online sports betting sites. In fact, most sportsbooks will have a whole page dedicated directly to the sport. Bettors might be familiar with the term racebook, which is essentially a sports book used for horse racing.
Betting on horse racing is legal to do at many online sports betting sites. Racebooks that accompany offshore sportsbooks are legal for American sports bettors. Of course betting is nothing new to the sport, with money wagered on at many tracks themselves such as historic Churchill Downs. But for those of us who don't have the pleasure of seeing the Kentucky Derby live, we have legal betting online through some of the top racebooks that rival all the betting options at the track's betting window.
2018 Triple Crown Betting Odds Explained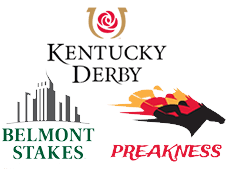 This year's 2018 Triple Crown journey has been full of excitement. Justify has been the horse favored to win it all since the Kentucky Derby, which he won by two-and-one-half-lengths. The three-year-old then went on to become undefeated in five starts after taking the Preakness Stakes over a sloppy track at Pimlico. Now, Justify's Belmont Stakes odds show that the colt is the betting favorite. There are even (1/1) odds for Justify to win the 2018 Triple Crown at Bovada Racebook. You can also compare odds at sites like BetOnline, SportsBetting, and 5Dimes. You can wager on Triple Crown odds in two different ways: you can bet place, show, exacta, trifecta, superfecta etc. bets on the Belmont Stakes, or, you can bet on Justify outright to win the Triple Crown.
Here are the current horse betting futures odds for the 2018 Belmont Stakes:
Funding Your Legal Online Racebook Account
In order to make funding your account as easy as possible, legal horse betting sites offer numerous deposit options. Once you register your account you can visit the cashier and choose the most convenient method. There are options that are suited for high rollers, those that are credited instantly, and those that can be transferred online. All of the sites with legal horse betting will have different options, but we will cover the common deposit methods below.
Bitcoin – Bitcoin is the digital currency that has become the preferred deposit method at the majority of legal online horse betting sites. This is because the method is more reliable than credit cards for US bettors and is just as fast. You can also enjoy larger deposit limits when you fund your account with bitcoin, and there are no deposit fees.
Credit Cards – Most legal online racebooks will accept Visa, MasterCard, and American Express. There is nothing more convenient than entering in your card number and being able to start betting on horses immediately. Some racebooks will charge a fee from 4% to 7% when you use a credit card, and your bank may also charge a small fee. Still, many horseplayers find that the convenience outweighs minimal fees.
Checks – Checks may be one of the oldest deposit methods but they are also one of the most reliable. You can send a cashier's check via express mail to the online racebook and it will be processed as soon as it is received. The cashier will provide you with the mailing address when you select this funding method.
Bank Wires – Bank wire transfers are easy because you can send money directly from your bank account. There will be a transfer fee charged by your bank, but this is the only method where you can send an unlimited amount of cash. The transfer should take no more than 3 business days depending on your bank. For high roller horse betting, bank wires are the best way to deposit.
Person to Person – Person to person is another name for using MoneyGram, Western Union, or other money transfer services. The online racebook will specify which transfers it will accept, and you can complete the entire process online rather than visiting a merchant. Many times, the cashier will cover any fees if the deposit is more than $300. The maximum deposit is usually around $700 with this method.
Best Online Horse Betting Sites That Are Legal
Online horse racing betting sites will have race lines formed throughout the year specific to major events like Triple Crown races. Learn about some of the best sites available for betting on horses as we get into them below. These sites offer more than just daily race odds, as they cover thoroughbred racing with futures and props as well.
Bovada Racebook - Features Race Lines From All Over U.S. + Major Horse Races

The racebook at Bovada gives bettors the opportunity to place wagers from a couple of different angles. Daily horse racing betting odds can be found in the racebook, but horse racing futures are located in the sportsbooks. Essentially a futures line is any upcoming horse race that has odds on them prior to the day of the event.
On racedays, Bovada switches to their top-of-the line-racebook which is fine tuned to deliver all of the race lines from tracks all over the United States including Saratoga, Del Mar, Churchill Downs + many more. If you want to try Bovada's racebook, it takes just a minute to sign up.
BetOnline Racebook - Features Race Lines From All Over U.S. + Major Horse Races

BetOnline accepts bettors from 50 U.S. states and runs one of the best horse racing betting sites you will find. Their daily racebook has complete betting line, plus previews of upcoming events on the calendar for the day to provide bettors with some background information that could prove to be helpful.
If you're looking to take advantage of future odds for the Triple Crown races like the Kentucky Derby and for other big events such as the Breeders Cup, BetOnline is one sports and racebook you should definitely use. Individual horse lines + racing props can be found here too!
SportsBetting Racebook - Legal Horse Betting For Players All Over The US

SportsBetting Racebook is at the top of the list when it comes to legal online horse betting sites. Players from all over the US can get the best horse betting odds and enjoy exciting features such as mobile horse racing betting. SportsBetting has the best promotions for horseplayers including a $25 risk-free horse bet. Just make a wager of up to $25, and if it loses the cashier will fully reimburse you with a free-play of the same amount.
After you start winning at SportsBetting Racebook, you will want to cash out your winnings. The cashier is full of legal withdrawal methods like bitcoin, checks, Western Union, and bank wire transfers. You can even transfer your winnings to another racebook like BetOnline. SportsBetting.ag is a legal betting site that you can trust.
5Dimes Racebook – Legal Horse Racing Betting With Huge Rebates

5Dimes is one of the best sites for betting on legal horse racing in the US. It is the online racebook for US players that has two different racebook formats. The first option is the Rebate Racebook which gives you up to 9% back on all of your winning and losing horse bets. You can get up to 5% on straight bets and up to 9% on exotic wagers at 5Dimes.
The second option is the Plus 10% Racebook where you get rebates on winning bets. When you win a 'win' or exotic wager at a major track like Santa Anita, you get a 10% cash back rebate. You can also get an additional 10% on all winning 'win' bets at any track featured in the online racebook.
More Info About Betting On Horse Racing Online
There are many bets that can be made on legal horse racing in the US. In fact, betting might actually drive the sport, which is one of the few sports that can probably say that. There is no doubt that the Kentucky Derby, Preakness, and Belmont are the three biggest days that horse racing has, but there are many other events and betting lines that take place as well. These legal horse betting sites will have the latest information and betting lines available to you.
Thoroughbred Racing Odds
Leading up to the race, there are betting lines that are released by sportsbooks well in advance for some of the more well-known events. These will be into two categories. The odds to win a race prior to race day are qualified as futures lines, which can be seen as weeks and even months in advance.
But outside of the odds to win are other bets that can be made on the race. Horse racing prop odds can cover some unique aspects of the race, including things like the winning saddlecloth number, or the over/under time that the winning horse will cross the finish line. These props aren't asking specifics about the winner, but still giving betting lines that payout on other outcomes.
Straight And Exotic Wagers
Legal online horse betting sites will offer the same wagers that you are used to at the track. You can bet on your horse to win, place, or show, which all are considered straight bets. You can also bet across the board which is when you put money on all three WPS wagers. Online racebooks also accept action on exotics, such as exactas, trifectas, and superfectas. You will have the option to box your bets, which lets you wager on all possible combinations with your chosen horses.
Other Ways To Bet On Horse Racing
The ability to access betting odds for the day's horse races around the world, or futures lines and props is accessible anywhere a bettor travels now. They don't even need to have a computer for it. Mobile betting is taking off and horse racing is a part of it at the best legal betting sites online. Bettors can access mobile sites of these sports betting sites and view the full range of betting odds available, plus actually place the wagers from their mobile device. It's pretty cool and makes it easier than ever to bet on thoroughbreds.
Legal Online Horse Betting Sites FAQ
Legal horse betting sites for US players have so much to offer in terms of horse betting odds and extra features. With so much action at legal betting sites, we can only imagine that you have additional questions about how an online racebook works. We have put together a short list of FAQS about horse betting sites that we think you might find helpful.
How Close To The Start Of The Race Am I Able To Bet?
Wagers can be placed up until the official post time. This means you can place bets until the horses have entered the starting gate for the race. Any bets placed after this time (as a result of internet delays) will be voided.
How Long Does It Take To Grade Each Race And Credit Winnings To My Account?
Online racebooks grade races as soon as they have the official results in hand, which typically only takes 15 minutes after the end of the race. Your account balance will be updated simultaneously.
What Types Of Races Can I Bet On?
Though Thoroughbred races such as the Kentucky Derby, Preakness Stakes, and Belmont Stakes are popular, there are other types of races you can wager on. Legal online horse betting sites will also have harness and quarter-horse racing options as well.
Should I Sign Up At More Than One Online Racebook?
With so many legal horse racing betting sites for US players you should definitely consider joining more than one. You may find that one site has better odds than another, which will keep more money in pockets in the long run. You will also find that you prefer certain features of one legal online racebook better than another. These sites are completely free to join, and you should use the sites that best fit your needs.
What Are Kentucky Derby Morning Line Odds?
Morning line odds are set by a handicapper at the Kentucky Derby before the race starts. These are not actual odds, but instead reflect where the money is predicted to go once betting begins. Your actual odds will be different than the morning line odds in most cases.