Legal Super Bowl Betting - Bet On Super Bowl 55 From All 50 States!!
The interest in legal Super Bowl betting has risen considerably over the last few years, especially with the growth of online sports betting. Each year, US sports bettors wager billions of dollars on the team that could potentially become the next NFL champion. As large as this number seems, there are still millions of NFL fans wondering how and where to bet on the Super Bowl in the United States. Sure, states like Nevada, Mississippi, West Virginia, and a few others are viable options, but if you do not reside in one of these states, traveling can be a hassle.
Fortunately, there are online sports betting sites that bring football fans all of the exciting Super Bowl action that they crave. Before you start using sites for legal sports betting, it is important to understand the ins and outs of NFL betting. Learning the legality wagering is a good starting point before getting into some of the options that you will have at online sportsbooks. Our betting resource will cover everything from legal deposit options to the different types of NFL bets that you can make. By the end of our guide, you should know all the essentials of betting on the Super Bowl.
Current Odds For 2021 Super Bowl LV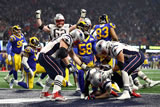 The current odds for Super Bowl 55 show that the Kansas City Chiefs are favored to win back to back championships. Kansas City finished the regular season with the best record in the AFC and notching a first-round bye in the postseason. The trio of quarterback Patrick Mahomes, wide receiver Tyreek Hill, and tight end Travis Kelce are the heart of the Chiefs offense and a big reason why they have the shortest Super Bowl LV odds at +200. Behind the Chiefs on the Super Bowl LV odds board are the Green Bay Packers with +400 odds. The Packers are the top-seeded team in the NFC and are led by NFL MVP candidate Aaron Rodgers.The Bills, Saints and Buccaneers round out the top five teams with the shortest odds. If the Buccaneers make it to Super Bowl LV they'll get to play at home as SB 55 is taking place at Raymond James Stadium in Tampa.
Super Bowl 55 Champion Futures Odds:
Kansas City Chiefs +200
Green Bay Packers +400
Buffalo Bills +550
New Orleans Saints +600
Tampa Bay Buccaneers +700
Baltimore Ravens +750
Los Angeles Rams +2000
Cleveland Browns +2800
Can Americans Now Legally Bet On Super Bowl 55 Online?
With the drastic change in the federal sports betting landscape, American bettors everywhere have questions regarding the legality of Super Bowl betting sites. While the Professional and Amateur Sports Protection Act of 1992 (PASPA) did previously limit single-game wagering to Nevada, the May 2018 Supreme Court ruling in Murphy vs. NCAA lifted the restriction.
Now, there are several states that offer legal sports betting at local sportsbooks. In total, there are eight states that allow residents to partake in legal Super Bowl betting at land-based venues. In addition to Nevada, the states of West Virginia, New Jersey, Mississippi, Rhode Island, Delaware, New Mexico, and Pennsylvania also allow full-service sports wagering. Learn more about the online sports betting options in each state below:
Legal Super Bowl Betting in Delaware
While Delaware was partially exempt from the confines of PASPA, full-scale sports wagering did not launch until June 5th, 2018 at the state's three local racetracks. Outside of these Delaware sportsbooks, NFL fans can join any of our recommended legal betting sites (except Bovada) to start wagering on the Super Bowl. Mobile betting has not reached Delaware yet, which makes the use of these sites that much more convenient.
Dozens of Mississippi sportsbooks have popped up since the initial grand openings that took place in Biloxi and Tunica on August 1st, 2018. There may be about 23 properties to choose from, but why make the drive when the best odds for the Super Bowl can be found at the most trusted legal betting sites. Keep in mind that many Mississippians are Saints fans… if they make a run, the odds for the Saints to win Super Bowl 54 will be better across the offshore betting sites.
New Mexico Super Bowl Betting
New Mexico set an interesting post-PASPA precedent, as tribal casinos opted to open sportsbooks in accordance with their Class III gaming status. Sports wagering is not laid out as a Class III game; however, it is implied. However, with only three operating sportsbooks in the state, you have a better opportunity to find prop bets and more for the Super Bowl with online bookmakers.
Pennsylvania Sportsbooks Taking Super Bowl Wagers
Pennsylvania sportsbooks went live for residents and tourists on November 17th, 2018 at Hollywood Casino at Penn National. There are eight sportsbooks open in PA currently mainly stationed around Philadelphia and Pittsburgh. Expansion into the north and central parts of the state are inevitable but instead of waiting, you can join any of the Super Bowl betting sites that accept PA players.
Super Bowl Betting in Rhode Island
Rhode Island surprisingly became the eight state to offer legal Super Bowl betting when it opened its first sportsbook on November 26th, 2018. Residents can only visit one of the Twin River casinos to place sports bets and online gambling is only a thought at the current moment. Like Super Bowl 53, if the Patriots or team in the area start advancing in the NFL Playoffs, expect to find terrible lines at these locales. With nearly every resident putting their money on the Pats, they betting odds are sure to be rather lackluster, which is why we recommend offshore sportsbooks for the best of action.
Online Super Bowl Betting in Nevada
Nevada has been the only state with legal single-game sports wagering for decades, and that's why there are hundreds of sportsbooks scattered throughout the state. For those who live here, you have been blessed and spoiled and for those who visit seem to never want to leave. Either way, to legally bet on the Super Bowl online in Nevada, residents can choose from several US-friendly sites.
Wagering in New Jersey on the Super Bowl
New Jersey sportsbooks launched in Atlantic City and surrounding areas in June 2018. It is one of the few states with a regulated online sports betting environment and has proven that most of the action occurs through this method. However, the state never banned the use of offshore sports gambling sites, so be sure to shop lines to determine the right play for you.
West Virginia Super Bowl Betting
The Mountaineer State was the fifth to legalize sports betting, with the Hollywood Casino at Charlestown taking its first bet on August 1st, 2018. Only five casinos in the state can legally accept sports wagers, which is one of the main reasons why the best way to bet on the Super Bowl in WV is at an online sportsbook. Though state law does allow local West Virginia sportsbooks to take online bets, offshore betting sites for WV residents have far more Super Bowl betting options, wager types, and everyone's favorite, prop bets.
Best Legal Deposit Method For Super Bowl Betting
The best legal deposit method for Super Bowl betting depends on your personal preferences and the type of site. If you happen to reside in a state that offers casino sportsbooks and you use one of their sites, you may have to physically visit the sportsbook before placing your wagers online.
Offshore sites such as Bovada and BetOnline offer far more deposit options. There are legal deposit methods such as cashier's checks that can be mailed to the online sportsbook, or you can use a service such as MoneyGram. Most bettors find that credit card deposits are most convenient, with online sportsbooks accepting Visa, international Visa gift cards, MasterCard, and sometimes American Express. Though these are all available options, the best legal deposit method for Super Bowl wagering is Bitcoin.
Bitcoin is a cryptocurrency that has become the standard for online sports betting. You can instantly send Bitcoin from your digital wallet to the wallet address provided by the online sportsbook. BTC is extremely reliable, with no third party or bank that can decline your transaction. Many bettors also prefer the anonymity of using Bitcoin, as you do not have to provide any of your personal bank account information. There are never any fees when making a Bitcoin deposit for Super Bowl betting, and your account will be funded instantaneously. Some sites expand on their crypto-acceptance, allowing for Ethereum, Litecoin, and more to be processed.
Legal Super Bowl Wager Types
You can do much more than bet on the outright winner of the Super Bowl when you join an online sportsbook. There are plenty of wager types to give you a variety of ways to make money. Many of the same options that you would have on regular NFL games will be available during the Super Bowl. Some of the most popular wager types include money lines, point spreads, totals, and parlays.
Moneyline – Betting on the moneyline is the most straightforward way to bet on the Super Bowl. You will bet on the team that you think will win the game outright. You can either bet on the favored team to win it all or take the underdog to cause an upset. Either way, your wager will look something like this:
Indianapolis Colts (-130) vs LA Rams (+115)
Here, if you wanted to win $100 on the Colts, you would have to risk $130 in order to attain that much. Conversely, if you wanted to bet $100 on the LA Rams, you would earn a profit of $115. Keep in mind these are just ratios and you can bet as little or as much as you'd like.
Point Spread – Point spread betting is as popular during the Super Bowl as it is during the regular season. The oddsmaker will assign a point spread to both the favorite and the underdog to level the playing field on both sides. This is just a handicap to allow bettors to pick a winner, despite which team actually wins on the field:
New England Patriots (-5.5) vs New Orleans Saints (+5.5)
If the point spread is set as -5.5 for the New England Patriots, the Pats must win by at least 6 points. If the spread is set at +5.5 for the New Orleans Saints, the Saints can lose by up to 5 points or win the game outright for a winning bet.
Totals – Totals are also called over/under bets. The bookmaker will set a total number of points to be scored during the Super Bowl (combined between both teams). You will wager on whether you believe the final score will be over or under this amount:
Seattle Seahawks vs Pittsburgh Steelers O/U 44
As simple as it sounds, taking the over means you believe 45 or more points will be scored while taking the under indicates you believe 43 points or less will be scored. Notice how the over/under can be a whole number (which oddsmakers hate). If exactly 44 points are scored, this is considered a push and all bets are refunded. Bookmakers will do everything in their power to use half-point increments so everyone is either a winner or loser.
Parlays – Parlays during the Super Bowl are a great way to increase your potential payout. Though there will not be other NFL games to add to your parlay, many sports fans will combine NBA and NHL games. You can also include halftime/full-time totals and point spreads to your parlay if you do not want to cross sports (if your site allows):
Minnesota Vikings (-3.5) + MIN vs OAK Over 42.5
With a parlay, both bets need to hit in order for the wager to be successful. In this case, the Vikings would need to win by 4 or more points and also score (combined with Oakland) 43 points or more. If one of the bets is incorrect, your entire bet is as well. This is what makes parlays hard to win but the payout increases drastically with each added "leg" to the parlay.
Understanding Super Bowl Prop Bets
The Super Bowl is one of the best times to take advantage of prop bets. Legal betting siteswill have hundreds of different Super Bowl props to keep your wagering experience interesting. There will be bets on specific players, each of the teams, and on the overall game.
Game props might include which team will score the first touchdown or the exact number of QB sacks in the game. Some of the team prop bets may include total team points scored in the first half or the total punts in a game for a certain team.
Player props give you the opportunity to wager on your favorite player(s) in the game, with odds on total passing yards, receptions, receiving yards, tackles, and more. Of all the legal Super Bowl betting options, prop bets are the most entertaining and can be quite valuable.
Live In-Game Wagering + Mobile Super Bowl Betting
Online sportsbooks are constantly looking for ways to make legal Super Bowl betting more fun and exciting. Live betting on the biggest event in football is the latest way to enjoy wagering on the sport. Online sportsbooks will post odds in real-time on different events that may happen in the game. Live betting odds are updated after each play of the game, giving you the chance to predict what will happen next. You will be able to bet on props, totals, and point spreads throughout the game.
Another option for legal Super Bowl betting is to wager from your smartphone or tablet. Mobile betting adds more flexibility to Super Bowl wagering by allowing you to bet from anywhere that you are connected to the internet. You have access to the same betting lines that you would from the desktop site and even live betting is possible from a mobile sports betting platform. The majority of sports betting sites will not require a traditional app download, and you can instead visit the mobile-friendly version of the sportsbook. Mobile sports betting sites are compatible with iOS, Android, and BlackBerry smartphones or tablets.
Keep in mind that some in-state licensed sportsbooks have mobile betting options as well. These, however, are required by federal law to not allow action to be placed outside of that certain state's border. In short, if you are on a New Jersey sports betting platform and want to watch the big game in the city, you will not be able to place a wager. This is just another reason why the offshore sports betting sites provide more options and convenience.
Legal Super Bowl Betting FAQs
Are There Bonuses For Betting On The Super Bowl?
Yes, nearly every legal Super Bowl betting site will be running promotions as the event draws nearer. There may be special deposit bonuses where the cashier will match your bonus by a larger percentage than usual. You may also find that there are free bet offers for placing Super Bowl bets from your mobile phone, or for betting live during the game. Right now, Bovada offers a $250 Sports Welcome Bonus for new players. BetOnline has a 100% Crypto Bonus that can be redeemed with code CRYPTO100 when you make a qualifying cryptocurrency deposit. Check the promotions page frequently so that you don't miss out on any exclusive offers.
How Do I Collect My Winnings?
When you bet on the Super Bowl, of course you want to win and be able to easily collect your cash. Legal Super Bowl betting sites provide you with plenty of hassle-free withdrawal options to get your money fast. For the fastest sportsbook payouts, you will want to use Bitcoin. There are no withdrawal fees, and you can get paid within a few hours. Bank wire transfers are a popular withdrawal method for high roller Super Bowl betting. This particular method has higher withdrawal maximums so that you can get more money out in one transaction. Other sportsbook payout methods include checks, MoneyGram, and Western Union. But each site is different so be sure to review their cashier page before requesting your withdrawal.
What Does the + and – Mean When Betting On The Super Bowl?
Most legal Super Bowl betting sites will display their odds in the American format. This is where you have a + to represent the underdog and a – to represent the favorite. When you bet on the favorite, you will risk more than your potential return. Betting on the underdog will return more on your win than the amount risked. For example, if the Kansas City Chiefs have -165 odds to win the Super Bowl, you would need to bet $165 to win $100. If the Seattle Seahawks have +130 odds to win the Super Bowl, you would need to wager $100 to win $130.
What Is The Benefit Of Shopping Lines?
Take last year's Super Bowl for example. On Bovada, the Patriots were favored by 3 points while on SportsBetting, they were only favored by 1.5. Granted the Patriots covered both of these spreads, but many gamblers were able to lock in a wager on the same action but with a better condition. Not every sportsbook is created equal, so they will always have different spreads and odds. This really comes into your benefit when looking at the juice or moneyline. In the same game, betting on Patriots at Bovada was -140 while at SportsBetting it was -115. Would you rather put down $500 on the Patriots win at Bovada (to claim $357 in winnings) or at SportsBetting (to claim $434 in winnings)? That is the benefit of shopping lines.