Legal College Football Final Four Betting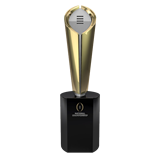 Because of such heightened interest, most sports wagering analysts expect this year's legal college football Final Four betting handle to surpass last year's record-breaking figures. Naturally, lots of folks – especially newcomers to the gambling scene – are going to want a piece of that multi-billion-dollar action. It doesn't matter if both Alabama and Clemson return to the big dance or neither team are granted the opportunity, the fact remains that people will want to bet on it.
However, getting started is always the hardest part but that is where we come in. Throughout this guide, you will find out about all of your options when it comes to legally betting on college football. We explain the differences between state-operated sportsbooks and the offshore operators as well as the benefits for each. Included is also a breakdown on how to bet the College Football Playoffs and even a few promotional codes in the offshore sportsbooks' reviews section.
College Football Final Four Bet Types
Just because the college football season has gotten past the conference tournaments and into the College Football Playoffs doesn't mean betting is any different. Betting on football is rather standard across the board, as you have wagers on the spread, total points bets, and moneyline action as the three standard betting types. However, we will review these options for all you new gamblers as well as those who want a refresher course.
Betting The Spread
Anytime you hear a pundit or analyst talk about how many points a team is favored, they are discussing the spread. In short, this is a handicap for the favored team that they must overcome to win the bet. A typical spread bet will look like this:
Alabama -2.5 (-110) vs Clemson +2.5 (-110)
Indicated by the minus sign, Alabama is the favorite in this battle of last year's National Championship Game. In order for a bettor to be successful when taking action on Alabama, the Crimson Tide would have to win by three or more points. Likewise, a winning bet on Clemson indicates that the Tigers won the game outright or covered the spread, losing by only 1 or 2 points.
Betting The Total Points
Instead of looking at if a team will cover a certain amount of points, you can just wager on how many points will be scored in the game. This type of betting is also known as taking the over/under because all you simply have to do is bet whether the over or under will hit from the projected total points amount. Use this as an example:
Michigan vs Ohio State O/U 51.2 (-110)
Here the line is set at 51.5 points. The oddsmakers prefer to use half-point increments to ensure that everyone is either a winner or loser and nobody is subject to "a push", which returns your money wagered. In order for a successful wager on the over, 52 or more points must be scored and the opposite is true for the under.
Moneyline Betting
Sometimes you may not know if a team will win by a certain amount or how many points will likely be scored, but you may know who will win the game. You have a style to choose from called betting the moneyline. This is also known as straight-up wagering as you are simply picking the team to win:
Florida State (-175) vs Florida (+140)
As you have seen in all three examples above, a three-digit number in parenthesis coincides with each side of the action. This is called the moneyline and is a simple ratio for $100. The favorite (minus sign) in Florida State could make a winning bettor $100 if they were to risk $175 on the game. Conversely, the underdog (Florida) would win a bettor $140 on a $100 wager. Notice how these work opposite of each other, as you must risk more on the favorite while you earn more than you bet with selecting the underdog. Keep in mind that you do not have to wager $100 nor wager to make $100 – this ratio will be the same even if you decide to throw down $1 or $1,000.
Where To Bet On The College Football Final Four
Betting on the college football final four teams is made easy with a variety of outlets. Not only do a dozen or so states offer legal sports betting in their jurisdictions, but some also offer online platforms as well. However, we highly recommend looking into offshore betting sites (such as the ones listed below) as you will constantly find better odds, more wagering options, and constant promotions that increase your bankroll.
Also, you must be on the lookout for state regulations. Some states have approved regulations that prohibit action on collegiate sporting events or tournaments that are held within their jurisdiction. Every state-licensed sportsbook must additionally adhere to a federal law known as the Wire Act that prevents them from accepting wagers from bettors who are not located inside state lines. Using an offshore betting site that is licensed by their home country can remedy all of these problems.
Legal College Football Final Four Betting At Bovada

By most measures, legal college football Final Four betting at Bovada is your best bet, as the site is essentially the industry's standard-bearer. Having famously never missed even a single payout, Bovada is known the world over for its fine customer service, its easy-to-use Internet interface, and a sports betting experience that is truly second to none. Their mobile betting and live betting features will keep you happier than any other sportsbook could even dream of.
Even better, new Bovada members can earn several bonuses, including a $250 Sports Welcome Bonus that can be used towards picking your favorite Final Four teams. If you decide to deposit with Bitcoin, there are a handful of other promotions that can boost your account balance much higher. Always be on the lookout for bonus offers at Bovada as they present them all over their website. Point of clarification: Bovada's services are not available in Delaware, Maryland, New Jersey, or Nevada.
Legal College Football Final Four Betting At BetOnline

Available to residents in all 50 states, BetOnline is one of the most popular online sportsbooks in the world and is a prime hotspot for American bettors looking for legal college football Final Four betting. Members can use Bitcoin, Litecoin, DASH, Ethereum, and Bitcoin Cash to make crypto deposits as well as a handful of other methods. Their customer service is always ready to help you, answering your questions through phone calls, emails, and live chat.
New BetOnline members are eligible to receive perks including a 50% Welcome Bonus, a 100% Bitcoin Bonus, and even an unprecedented 25% Lifetime Bonus Guarantee. The first two promotions you will have to decide which one to use, as they both are welcoming bonuses; however, there are over a dozen other non-welcoming promotions on the site that you can take advantage of. Use the code BOL1000 to access the first code or CRYPTO100 to take advantage of the second. Whether or not you join any other sportsbook, BetOnline is a must-visit for this year's college football Final Four.
Legal College Football Final Four Betting At MyBookie

Probably our favorite in regards to site design, MyBookie delivers a clean and precise betting platform. Everything is cleared organized and jumping from their sportsbooks to their online casino, racing book, and more is made extremely simple. Best of all – your funds transfer across every betting method. From esports to Australian football and from entertainment wagers to political ones, you will certainly find betting action on this site for whatever you are looking for.
New members can earn a 50% bonus when they sign up with MyBookie and make their first deposit. However, this is just one of the luxuries, as you also can gain a 100% bonus just by referring a customer to the site. MyBookie is known for their less-than-48-hours payment time and having one of the best loyalty programs in the business. You should sign up today to experience those benefits for yourself.
Current Odds For The College Football Final Four
The College Football Championship will be played in New Orleans at the Superdome on January 13 2020. The Fiesta Bowl in Arizona and Peach Bowl in Atlanta will be the semifinal matchup, taking place on December 28, 2019. The Clemson Tigers (+225) are co-favorites to repeat as CFB Champions with the Alabama Crimson Tide (+225). These odds are the same on both Bovada and SportsBetting, but finding value past these two teams should be a top priority for those looking to bet on the College Football Playoffs. Georgia is the third favorite on both sites but is listed at +700 at Bovada but only +650 at SportsBetting. These differences create a great opportunity to collect more profit on the same amount wagered so be sure to do your research on sports betting sites before betting on the college football final four.
Mobile Apps For Legal College Football Final Four Betting
What if you want to bet on the college football Final Four but can't get to a computer? Well, if you have a cellphone or a tablet, you're in business (and if you don't, you probably aren't reading this anyway). This is largely possible thanks to the fact that all the best sportsbooks actually have mobile-optimized websites that make searching for and placing wagers on the small screen easier and quicker than ever. What's more, your mobile device is likely even more secure than your desktop or laptop computer, making mobile sports betting a safer overall experience.
Legal College Football Final Four Live Betting
Another way that mobile sports betting is helping push the gambling pastime into the 21st century is through live betting. Also called in-game betting, live betting means that the action doesn't stop when the game starts. With traditional sports betting, once the game gets underway, your bets are locked in (and further, bets are locked out). With live betting, however, you can bet on every single snap for the entire duration of the contest, expanding your options by literally hundreds of new, exciting, dynamic wagers.
In-game betting makes legal college football Final Four betting more exciting than ever before, and it's the most immersive, intense football experience you'll get short of being on the sideline itself. Wagers range from selecting who win score the next touchdown, if a drive will end with a field goal or touchdown, or even picking the exact score of the contest. With live betting, your wagering types increased drastically, but be sure to bet quickly – as each second of the clock ticks, the betting lines are adjusted accordingly.
Depositing Into Legal College Football Sportsbooks
Oftentimes, the toughest part about getting a membership-based Internet service set up – whether it's related to sports betting or not – is establishing a reliable way to fund your account. Fortunately, depositing into legal college football sportsbooks like Bovada, BetOnline, and the rest of the best providers out there make that a reasonably simple process. Most users will opt for VISA or Mastercard credit card transactions, but other options still exist.
Depending on the site, you can deposit into your account with Bitcoin (and other cryptocurrencies), a wire transfer, a Money Order, and more. For the high rollers, you should look into Bitcoin or wire transfers, as these come with the highest (or no) maximum deposit limit and are generally free to deposit and withdraw through this method.
How To Withdraw Legal College Football Betting Payouts
After winning some cash through your legal college football Final Four betting exploits, you're going to want to take some (or all) of that money out of your sportsbook account and bank it proper. If you're using Bitcoin or Litecoin, this process is more or less instantaneous, but any other method – including money orders, wire transfers, and courier checks – will typically takes up to 10 days to process. This is one of the reasons that more and more legal online sportsbook patrons are turning to the convenience, reliability, and security that cryptocurrencies offer.
Keep in mind that you will not be able to get credit back on your card that you used to deposit. This stems from a federal law known as UIGEA which blocks banks from knowingly processing payments to offshore gambling sites. While your card can create a hurdle when attempting to deposit, there is an easy solution around this. In terms of withdrawing, there is no way around it, so look at your site's cashier page to determine how you can receive back your winnings.
Legal College Football Final Four Betting FAQs
Can I Get Arrested For Betting On The College Football Final Four?
In the US, nobody has ever been arrested for simply betting on collegiate or professional sports at legal betting sites. Remember, placing bets on sporting events is not itself against the law. However, to remain 100% in the clear, you should only use a reputable sportsbook. These come in the forms of offshore sportsbooks, state-licensed betting platforms, or land-based state-operated sportsbooks.
How Many Legal Online Sportsbooks Can I Join At Once?
You can join as many legal online sportsbooks as you want. In fact, joining several such services at once is one of the very best ways to establish an immediate, meaningful edge in your sports betting game. For example, if you sign up more than one Internet betting shop, you'll be able to effectively shop around for the best legal college football Final Four betting lines and payouts available. That means less risk and more reward, which is always a bettor's best friend! However, be sure not to sign up with so many that you forget where you already did. Creating multiple accounts is a big no-no, leaving you subject to account suspension and/or loss of funds.
Is Betting On The College Football Final Four Safe?
Provided you do so only at one of the legal sportsbooks listed above, betting on the college football Final Four is extremely safe. After all, legal online sportsbooks are designed to work within the letter of law, not in spite of or despite it. The only thing you need to worry about is not risking more money than you can afford to lose. Stay cautious, and you'll stay out of trouble.
What If I Can't Pay For My College Football Final Four Bets?
One of the most convenient and security-centric things about using online sportsbooks for legal college football Final Four betting (as well as for wagering on other events) is that you cannot bet with more cash than you've transferred into your account beforehand. There's nobody to come collecting, because – if you lose what you had – there's nothing left to collect! You might lose some money, but you'll keep your arms and legs!
Do I Need To Report My Sports Betting Winnings On My Taxes?
Yes, you most certainly need to report any sports betting winnings you earn on your yearly income taxes. The forms to do so may be found at the IRS's website. It's advised that you keep a detailed tabulation of all your gambling gains and losses to make this process easier and if all else fails, personal accountants can be your best friend in this situation. Any success you have with legal college football Final Four betting won't be worth much if you get caught hiding your profits from larcenous, old Uncle Sam.