Legal Online Horse Betting Sites
Horse races are some of the most bet-on sporting events in the entire world, and that draws a big need for legal online horse betting sites. While the three Triple Crown races held annually in the United States get plenty of attention, there are many more big events held each year in the US and around the world as well.
Thoroughbred racing is very well covered at online sports betting sites. In fact, most sportsbooks will have a whole section dedicated specifically to the sport. Bettors might be familiar with the term "racebook," which is essentially a sportsbook used for horse racing. In fact, horse racing betting is treated differently than sports betting in the US, and it is legal in most states. That said, various laws on the federal and certain state levels can make access extremely limited, and there are not many places where a US resident can legally wager on the ponies over the Internet with a US-based racebook service. Of course, as with sports betting, there is an easy workaround or loophole, if you will: offshore racebooks!
Betting on horse racing is legal to do at many online offshore sports betting sites. Racebooks that accompany offshore sportsbooks are legal for American sports bettors to access and use. Of course, betting is nothing new to the sport, with money legally wagered at many tracks themselves all across America, such as at historic Churchill Downs, New Jersey's Meadowlands, and countless other active venues throughout the country. But for those of us who don't have the pleasure of seeing the Kentucky Derby live or attending proper, high-level graded stakes horse races, we have legal betting online through some of the top racebooks in the world, all of which rival the betting options you'll find at any local track's betting window.
2020 Triple Crown Betting Odds Explained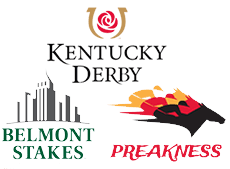 The betting odds for the Triple Crown races are typically posted about two months out from the Kentucky Derby, which is run on the first Saturday in May. Most sportsbooks and horse racing betting sites will post odds on the favorites to win, place, and show in the Derby, with futures on whether or not a given horse will win the Triple Crown. After the Derby, almost immediately you will see odds posted for the next leg of the series, the Preakness Stakes, which is held on the third Saturday of May. Finally, once the Preakness is run and a winner is determined, you will get access to the odds for the last US Triple Crown race of the year, the Belmont Stakes, which is run in early June (usually the first or second Saturday in the month).
To date, there have been 13 Triple Crown winners, with the latest horse to win the coveted title, Justify, having been the favorite in each of the three races. If history is any indication, there should be another Triple Crown winner sometime in the next 3-5 years before the next decades-long drought kicks in. Regardless of whether or not a Triple Crown contender emerges, however, horse racing betting is still a thrilling affair, and if you haven't got access to a bona fide local racetrack, wagering online is the absolute next best thing.
Funding Your Legal Online Racebook Account
In order to make funding your account as easy as possible, legal horse betting sites offer numerous deposit options. Once you register your free account, you can visit the site's cashier and choose the most convenient method. There are options that are suited for high rollers, those that are credited instantly, and those that can be transferred online.
Bitcoin and other cryptocurrencies are especially popular lately, as they have quick transfer times, no added fees, and very high deposit and withdrawal limits. All of the sites with legal horse racing betting will have different options, but we will cover the common deposit methods below.
Bitcoin – Bitcoin is the digital currency that has become the preferred deposit method at the majority of legal online horse betting sites. This is because the method is more reliable than credit cards for US bettors and is just as fast. You can also enjoy larger deposit limits when you fund your account with Bitcoin, and there are no added deposit fees.
Credit Cards – Most legal online racebooks will accept Visa, MasterCard, and some even take American Express (Bovada and SportsBetting). There is nothing more convenient than entering in your card number and being able to start betting on horses immediately. Some racebooks will charge a fee from 4% to 7% when you use a credit card, and your bank may also charge a small fee to process the international transfer. Still, many horseplayers find that the convenience outweighs these minimal fees.
Checks – Checks may be one of the oldest deposit methods but they are also one of the most reliable. You can send a cashier's check via express mail to the online racebook and it will be processed as soon as it is received. The cashier will provide you with the mailing address when you select this funding method.
Bank Wires – Bank wire transfers are easy because you can send money directly from your bank account. There will be a transfer fee charged by your bank, but this is the only method where you can send an unlimited amount of cash. The transfer should take no more than 3 business days depending on your bank. For high roller horse betting, bank wires are the best way to deposit.
Person to Person – Person to person is another name for using MoneyGram, Western Union, or other money transfer services. The online racebook will specify which transfers it will accept, and you can complete the entire process online rather than visiting a merchant. Many times, the cashier will cover any fees if the deposit is more than $300. The maximum deposit is usually around $700 with this method.
Best Online Horse Betting Sites That Are Legal
Online horse racing betting sites will have race lines formed throughout the year specific to major events like Triple Crown races. Learn about some of the best sites available for betting on horses as we get into them below. These sites offer more than just daily race odds, as they cover thoroughbred racing with futures and props as well.
Bovada Racebook - Features Race Lines From All Over U.S. + Major Horse Races

The racebook at Bovada gives bettors the opportunity to place wagers from a couple of different angles. Daily horse racing betting odds can be found in the racebook, but horse racing futures are located in the sportsbook section. Essentially, a futures line is based on any upcoming horse race that has betting interest on them prior to the day of the event.
On race days, Bovada switches to their top-of-the-line racebook, which is fine-tuned to deliver all of the race lines imaginable, from tracks all over the United States including Saratoga, Del Mar, Churchill Downs, and many more. If you want to try Bovada's racebook, it takes just a minute to sign up.
While Bovada doesn't offer free-play bonuses on horse racing betting due to the nature of the sport, the site does offer new US horseplayers several different points/rewards programs, including a generous cash-back platform that effectively discounts the house fees on horse racing wagers. You will have to check with Bovada's cashier service to be notified of all the latest horse racing betting promotions.
BetOnline Racebook - Features Race Lines From All Over U.S. + Major Horse Races

BetOnline accepts bettors from all 50 US states and runs one of the best horse racing betting sites you will find. Their daily racebook has complete betting lines plus previews of upcoming events on the racing calendar. All this is provided to offer bettors some background information that could prove to be helpful. After all, the one major difference between betting at the track and betting online is that, at the track, you can actually inspect the conditions and the competing horses. Online, you are solely reliant on accurate, up-to-date news in order to properly handicap any races of interest.
If you're looking to take advantage of future odds for the Triple Crown races like the Kentucky Derby, Preakness Stakes, and Belmont Stakes, as well as for other big events (such as the Breeders Cup and the Pegasus Cup), BetOnline is a sportsbook and racebook service that you should definitely use. Individual horse lines and racing props can be found here too, and you can make moneyline wagers and pari-mutuel wagers, as events dictate.
New members who join BetOnline's world-class racebook today can choose from a few pertinent and valuable perks, including free horse picks, an exclusive news feed, and a 7% rebate program on all horse bets placed for the life of your account. And if you're just getting started with horse racing betting in general, BetOnline even offers a $25 risk-free bet, making your very first pick a safe one, whether you win or you lose!
SportsBetting Racebook - Legal Horse Betting For Players All Over The US

SportsBetting Racebook is at the top of the list when it comes to legal online horse betting sites. Players from all over the US can get the best horse betting odds and enjoy exciting features such as mobile horse racing betting. SportsBetting has the best promotions for horseplayers including a $25 risk-free horse bet. Just make a wager of up to $25, and if it loses, the cashier will fully reimburse you with a free-play of the same amount.
After you start winning at SportsBetting Racebook, you will want to cash out your winnings. The cashier service is full of legal withdrawal methods like Bitcoin, altcoins (Ethereum, Litecoin, etc.), checks, Western Union, money orders, and bank wire transfers. You can even transfer your winnings to another racebook like BetOnline. SportsBetting is a legal betting site that you can trust, and they do horse racing betting right.
Sign up at SportsBetting now, and be sure to join their Track Rebate program, which attaches a 7% rebate to bets placed over the Internet, while telephone bettors can get a smaller (but still valuable) 4% rebate.
More Info About Betting On Horse Racing Online
There are many bets that can be made on legal horse racing in the US. In fact, betting might actually drive the sport, which is one of the few sports that can probably say that. There is no doubt that the Kentucky Derby, Preakness Stakes, and Belmont Stakes are the three biggest days that horse racing has, but there are many other events and betting lines that take place as well. These legal horse betting sites will have the latest information and betting lines available to you.
Thoroughbred Racing Odds
Leading up to graded stakes Thoroughbred race covered by your racebook of choice, there are betting lines that are released well in advance for some of the more well-known events. These will be into two categories, as follows.
First are horse racing futures bets. The odds to win a race prior to race day are qualified as futures lines, which can be seen weeks and even months in advance of the matchup. Bettors should be cautious, however, as these wagers always have action and are binding. If you pick a horse to win the Derby, for example, and that horse gets injured a week or two before the Run for the Roses, you will not get your money back. That scenario would simply qualify as a losing bet. And no sport has more late scratches than horse racing, so always be extra careful when placing wagers far in advance.
Secondly, outside of the odds to win, there are other bets that can be made on a horse race. Horse racing prop odds can cover some unique aspects of the race, including things like the winning saddlecloth number, or the over/under time that the winning horse will cross the finish line. There are also plenty of props that aren't asking specifics about the winner, but still offer betting lines that pay out handsomely. As a general rule, the bigger the horse race, the more bets and wager types you'll be able to place.
Straight And Exotic Wagers
Legal online horse betting sites will offer the same pari-mutuel wagers that you are used to at the track. You can bet on your horse to win, place, or show (aka WPS), all of which are considered straight bets. You can also bet "across the board" which is when you put money on all three WPS wagers, picking the horses that finish first, second, and third. Online racebooks also accept action on exotic bets, such as exactas, trifectas, superfectas, pick 6 bets, and other parlay-style wagers. You will have the option to box your bets, too, which lets you wager on all possible combinations with your chosen horses. Most books will let you box as many horses as you wish, with each possible outcome costing a fixed amount (usually $1 or $2 per, which is the industry standard).
Other Ways To Bet On Horse Racing
The ability to access betting odds for the day's horse races around the world (including futures lines and props) is available anywhere a bettor travels. You don't even need to have a computer to place your wagers! Mobile betting is taking off, and horse racing is a big part of the revolution at the best legal betting sites online. Bettors can access mobile versions of their favorite sports betting sites and racebook sites, and they can view the full range of betting odds available, quickly and easily, right in the palms of their hands.
Plus, with mobile horse racing betting, gamblers can actually place the wagers from their mobile devices. Mobile betting is pretty darn cool, and it makes it easier than ever to bet on all the Thoroughbred action you crave.
Legal Online Horse Betting Sites FAQ
Legal horse betting sites for US players have so much to offer in terms of horse betting odds and extra features. With so much action at legal betting sites, we can only imagine that you have additional questions about how an online racebook works. We have put together a short list of FAQs about horse betting sites that we think you might find helpful.
How Close To The Start Of The Race Am I Able To Bet?
Wagers can be placed up until the official post time. This means you can place bets until the horses have entered the starting gate for the race. Any bets placed after this time (as a result of internet delays) will be voided.
How Long Does It Take To Grade Each Race And Credit Winnings To My Account?
Online racebooks grade races as soon as they have the official results in hand, which typically only takes 15 minutes after the end of the race. Your account balance will be updated simultaneously.
What Types Of Races Can I Bet On?
Though Thoroughbred races such as the Kentucky Derby, Preakness Stakes, and Belmont Stakes are popular, there are other types of races you can wager on. Legal online horse betting sites will also have harness and quarter-horse racing options as well.
Should I Sign Up At More Than One Online Racebook?
With so many legal horse racing betting sites for US players you should definitely consider joining more than one. You may find that one site has better odds than another, which will keep more money in your pockets in the long run. You will also find that you prefer certain features of one legal online racebook better than those of another. These sites are completely free to join, and you should use the sites that best fit your needs.
What Are Kentucky Derby Morning Line Odds?
Morning line odds are set by a handicapper at the Kentucky Derby before the race starts. These are not actual odds, but instead reflect where the money is predicted to go once betting begins. Your actual odds will be different than the morning line odds in most cases, as horse racing payouts are pari-mutuel in nature, or pool-based, and can only be calculated once all bets are in. All horse races tend to have morning line odds, though these are typically only advertised in the mainstream when the race is sufficiently nationally or internationally popular.