AllBets.me Mobilizes Peer-To-Peer Sports Betting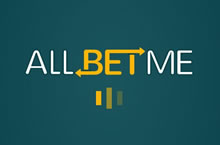 AllBets.me, a new website billed as the first truly peer-to-peer (P2P) betting service on the Internet, has launched for European users. The AllBets.me platform is designed to give individual users the ability to set their own odds, define specific bet conditions, and decide who among the community can participate in the wager.
Touting a menu of over 25,000 events each month, the idea here is that casual bettors are able to fire up AllBets.me and enjoy a friendly online environment where the types of bets and participants are decided upon by the users themselves. Moreover, under this system, each user is (or is part of) the "house." There is no third-party entity that anyone is betting against or that actively adjusts any lines.
All that said, there is scant information about the monetary aspects of the site, from payouts to monetization for the host. Does Allbets.me take a cut of your winnings? Is the service ad supported? What is the penalty for not honoring your wager? How are winnings delivered? There is no ready answer to these questions right now. On the surface, it seems like the only way a project like AllBets.me could truly work is via a pari-mutuel-style variable money pool, but that doesn't seem to be the case. Outside of one-on-one bets, potential users should be sure to investigate AllBets.me further to make sure group and public bets don't have unreasonable or nonviable terms. (It seems that everyone who accepts your posted group bet would be entitled to the full payout per the moneyline odds established, meaning you could lose all your cash in a big hurry.)
Will AllBets.me Be Available In The United States?
Don't count on it. Not officially, anyways. For one thing, since the users themselves are effectively the "bookies," using the site or service would likely run afoul of federal sports betting laws like the Interstate Wire Act (1961). Additionally, it is a federal crime to accept a sports bet in the US (PASPA, 1992), while the UIGEA (2006) presents a slew of payment hurdles and further criminalizes online sports betting. In America, if you really want to bet with your buddies, it's best to do it in person or through various private messenger channels. Sure, there'll be nobody to enforce payment, but at least you'll find out who your friends are.
AllBets.me is an interesting concept, and in a less restricted environment, the idea – properly fleshed out – would probably take off in the US. Whether or not Apple or Google would allow such a product on their respective app stores without a requisite cut of the take remains unclear. For now, the service appears to be doing business solely as a website/web app. If you're in Europe and want to give AllBets.me a test drive, make sure to read and understand the terms and conditions before you create an account.
AllBets.me is a product of A.B. Europe LTD and is licensed and regulated by the Malta Gaming Authority under MGA license number MGA/CL3/1160/2015.