Bettor Who Picked Tiger For Masters Puts $100K On 2019 Grand Slam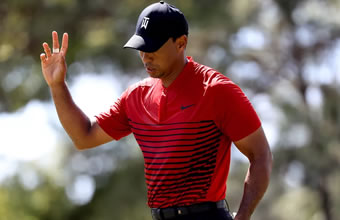 James Adducci won $1.19 million picking Tiger to win the 2019 Masters.
The bettor has now bet $100,000 at 100-1 odds on Tiger to win the 2019 Grand Slam.
William Hill US is carrying $10 million in liability on Adducci's wager.
LAS VEGAS – The biggest winner of the 2019 Masters was obviously Tiger Woods, but James Adducci was hot on the champ's heels.
Adducci isn't a golfer, though. Rather, he is the first-time bettor who put $85,000 on Woods to win at Augusta National, scoring a payout of $1.19 million.
That payout was the largest ever on a golf bet and only the fourth seven-figure payout in William Hill US's history. The previous three such payouts were all on Super Bowl LII in 2018.
After Woods won his fifth green jacket at Augusta, William Hill US director of trading Nick Bogdanovich acknowledged the value in the loss for his brand.
"It's great to see Tiger back. It's a painful day for William Hill – our biggest loss ever – but a great day for golf."
And that's leading to more bets.
As one example, Bogdanovich's company now has a chance to recoup some of that prior loss. And that opportunity comes courtesy of the very same bettor to whom they just paid out more than a million dollars.
James Adducci has followed up his savvy Masters bet with a much more outlandish wager. Adducci has put $100,000 on Tiger to win the 2019 Grand Slam. William Hill US gave him 100-1 odds (+10,000).
If Adducci hits, he would take William Hill US for $10 million. That would be the biggest loss in William Hill's 85-year history. It could even plunge the book into the red for the quarter.
Still, the bet is a no-brainer for the sportsbook.
To win the Grand Slam of professional golf, a player must win golf's four major tournaments in the same year. These are the Masters, the PGA Championship, the US Open, and the British Open.
Tiger has winning experience at two of the three remaining 2019 major courses. But he has never played a tournament at the site of this year's British Open, the Royal Potrush.
This year's remaining Grand Slam events will be held at the following venues.
PGA Championship: Bethpage Black Course - Long Island, NY (May 16-19)
US Open: Pebble Beach Golf Links - Pebble Beach, CA (June 13-16)
British Open: Royal Potrush – County Antrim, North Ireland (July 18-21)
What Are The Odds?
We already know that the odds for Tiger winning the 2019 Grand Slam are 100-1, per William Hill US. But remember, betting odds aren't the same as actual probabilities.
So, what are Tiger's real chances to win the Grand Slam this year? Well, they're pretty low, as it's never been done. Not by Tiger, and not by anyone else.
In 1930, amateur golfer Bobby Jones won the Grand Slam of his era. This included the British Amateur, British Open, United States Open, and United States Amateur. However, the accomplishment has never been achieved under the modern format, which began in 1934 (i.e. the "Masters Era").
Tiger is tied with Jack Nicklaus for three "Career Grand Slams." But that simply means that both golfers have won each major tournament at least three times.
Tiger has won the Masters five times (1997, 2001, 2002, 2005, 2019), the US Open three times (2000, 2002, 2008), the British Open three times (2000, 2005, 2006), and the PGA Championship four times (1999, 2000, 2006, 2007).
In 2000, Tiger nearly won the Grand Slam, but a fifth-place finish in the Masters precluded his opportunity to do so. However, Tiger's 2001 Masters win means that he did once win all four golf majors consecutively (2000-2001).
Tiger remains the only player in history to accomplish that feat. In fact, the consecutive non-calendar-year Grand Slam is called the "Tiger Slam" in his honor.
If Tiger wins the US Open and the Open Championship once more at any stage in his career, he will pass Nicklaus with four total Career Grand Slams.
But remember, no golfer has ever won a Grand Slam in a single calendar year.
It could certainly happen, but from any sportsbook's perspective, even 100-1 odds at legal betting sites are somewhat conservative.
It's easy to say that Adducci is wasting his money here, but the risk represents roughly one-twelfth of what he won on the Masters.
It's still an awfully bold bet, but it's one both Adducci and William Hill US can afford to make.