Boom Fantasy Announces Huge Investment Deal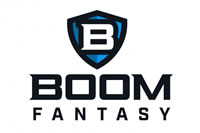 While it isn't a household name (yet) like FanDuel or DraftKings, Boom Fantasy is making waves in the daily fantasy sports industry after announcing that it closed on a $2 million round of seeding from various investors.
That's not the only good news for Boom though as they announced that they have acquired another former fantasy sports operator called Draftpot, which was at one point thought to be one of the stronger up and coming sites in the industry.
While these moves don't come close to putting Boom Fantasy on the same level as DraftKings and FanDuel, it is still a solid investment into a fantasy sports industry that has experienced plenty of struggles over the last couple of years.
Details Of Boom Fantasies Investment Deal
The seed round was led by a company called Founders Fund's FF Angel. One of their partners, Cyan Banister, is a big name as she was one of the first investors of huge companies like Uber and SpaceX and she was the leader of their Boom Fantasy investment.
Banister released a press release saying "Boom Fantasy is incredibly fun — both for diehard sports fans and for casual fans who want something to root for. This was the first fantasy sports company that I was truly excited about," She then touched on what she expects from the company in the future as she said, "Boom Fantasy is poised to rapidly rise in an industry that has overcome regulatory scrutiny and expects substantial growth in the years ahead."
That's not all though, Banister really wanted to drive the point home about what their goal is with this investment saying "Boom Fantasy's mission is to increase the thrill of sports for every fan," said Assaf Einat, CTO of Boom Fantasy. "With this acquisition and funding round, Boom Fantasy will have larger prize pools, exciting new gameplay, and even better customer support. We look forward to offering an unparalleled fantasy sports experience for our players."
The acquisition of Draftpot is another big part of Boom Fantasy's potential growth. Draftpot should increase the player database and they expect it to double its available users after ceasing operations in 2016. Boom Fantasy launched in 2015 after raising nearly $1.5 million.
State Of The Fantasy Sports Industry
The last couple of years has seen the daily fantasy sports industry take a significant dip in growth after a ton of early success. Now FanDuel and DrafKings are really the only sites that are just about household names. Currently, the two companies are attempting to merge together but that plan rests on the shoulders of the federal government's approval under anti-trust laws.
A ton of different sites went bankrupt or just stopped operations with the most notable being Fantasy Aces. They famously went bankrupt while owing their players more than a million dollars. Most other sites just simply couldn't get over the hump of the economic climate and regulatory environment that comes with fantasy sports.
With all this being the case, it's refreshing to see a new fantasy site make strides and bring some good news to the forefront of the fantasy sports industry. Boom Fantasy is still a small fish in a big pond but there is reason for optimism for these sports betting sites.