Cerrone Calls Out McGregor After Win To Reignite Potential Sportsbook Betting Odds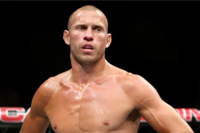 Donald Cerrone calls out Conor McGregor after his five-round win.
There were previous odds on Cerrone and McGregor fighting earlier in the year.
A match-up with the two fighters could bring huge activity to sportsbooks across the nation.
LAS VEGAS – UFC fighter Donald "Cowboy" Cerrone won big this weekend with his five-round unanimous decision victory over "Raging" Al Iaquinta. Cerrone then proceeded to call out former lightweight champion Conor McGregor in his post-fight interview.
There was speculation for the two to clash earlier this year in a co-main event but talks fell through after certain demands from the McGregor side were left unmet. The former belt holder was looking for more than a fight check.
"There's no problem with that. But if they want me to push that – and I have no problem pushing that – give me my rightful share in the UFC company. That's all I ask. You can put me on the first fight of ESPN+, no problem. So let's see how it goes," said Conor McGregor via Mike Pendleton's Twitter.
The previous betting odds for the first match-up attempt were Cerrone +150 and McGregor -185, last year according to Bovada. While there are no odds released yet for this second potential matchup attempt, the number could bring in huge numbers for sportsbooks across the nation.
With more states getting closer to legalizing sports gambling in either land-based or online forms, there is the potential for a surge of wagers in states where sports gambling has been made legal. McGregor is well known among casual watchers of the UFC and has the potential to fill sportsbooks seats, as evidenced in his fight with Khabib Nurmagomedov.
This matchup had Nurmagomedov at -160 and McGregor at +130, according to Bovada last year. Being that Cerrone currently resides in New Mexico, local fans could be encouraged to go out and place wagers. Sports gambling is legal in New Mexico when done through a tribal sportsbook.
With the legalization of sports betting spreading over the state a match-up with two of the most popular fighters in the UFC could bring big money into sportsbooks over the state. Current betting odds at legal betting sites for the potential match-up have not been released but may in the near future if the two sides can come to an agreement.