2018 Super Bowl Props: Cross-Sport Props For Winter Olympics, NBA, And More!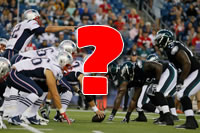 Considering that American football is never a sport included in any Olympic program, you might not see much of a relationship between Super Bowl LII and the 2018 Winter Olympics. In fact, any other time of the year, the outcome of the Philadelphia Eagles vs New England Patriots matchup would have no bearing on how teams fare in Pyeongchang.
However, with the big game just hours away, Vegas has decided to blur the lines between the events by including a few cross-sport proposition wagers involving both games. There are still Super Bowl 52 props and 2018 Winter Olympic prop bets in their own respective categories, but why not have some fun with a few unique wagers that are unique and entertaining?
Aside from joining NFL fans with those of the Winter Olympics, Bovada Sportsbook is also offering dozens of other cross-sport prop bets ahead of the 2018 Super Bowl that include the NHL and NBA. There are thousands of Super Bowl LII props, Pyeongchang betting odds, and cross-sport propositions to choose from at legal betting sites. Here are a few of the most interesting props that you can put money on today from each category:
Cross-Sport Props
What Will Be Greater?
Total points by the winning team in Super Bowl 52 -120
Total number of medals won by the 2018 U.S.A. Winter Olympic Team -200
What Will Be Greater?
Number of completions for Tom Brady -130
DeMar DeRozan total points vs the Memphis Grizzlies -110
What Will Be Greater?
Total sacks in the Super Bowl +135
Total goals in the Vegas Golden Knights vs the Washington Capitals -175
What Will Be Greater?
Nick Foles number of completions -130
Kemba Walker total points vs the Phoenix Suns -110
2018 Winter Olympic Props
Total Number of USA Gold Medals
Over 8.5 Gold Medals -105
Under 8.5 Gold Medals -125
Total Number of Canada Gold Medals
Over 10.5 Gold Medals-120
Under 10.5 Gold Medals-110
Winter Olympics 2018 - Medal Table
Norway -120
Germany+200
USA+700
Canada+1200
Netherlands+2500
Olympic Athletes of Russia+3300
Republic Of Korea +4000
Super Bowl 52 Props
Super Bowl 52 Coin Toss Odds
What Color Will The Gatorade Be That Is Poured On The Game-Winning Coach?
Lime/green/yellow +225
Orange +250
Red +275
Clear/water +375
Blue +1000
Purple +1000
How Long Will It Take Pink To Sing The U.S. National Anthem?
Over 2:00 -200
Under 2:00 +150
How Many Times Will Robert Kraft Be Shown On Tv During The Broadcast?
Over 2.5 -200
Under 2.5 +150