Defending Snowboard Halfpipe Champion To Compete?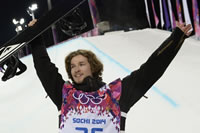 Two weeks ago, defending Olympic Halfpipe champion Iouri Podladtchikov (a.k.a. I-Pod) crushed his nose on a spill at the X Games in Aspen, CO. A nasal fracture was the most serious injury suffered in what could have been far worse, but it remains unclear if the reigning Olympic champion will defend his Snowboarding Gold, as nobody yet knows if he's going to compete in the Men's Snowboard Halfpipe during the 2018 PyeongChang Winter Olympics. The event will be held next week, giving Podladtchikov a solid 3 weeks of recovery time, though training for the event starts today. So far, I-Pod is non-committal about whether or not he will compete.
Because of Podladchikov's questionable status for the Olympics, all the online sportsbooks like Bovada and Bet365 have kept him off their boards, and Shaun White – seemingly as ever – sits atop the list of athletes with +185 odds to win. However, should I-Pod decide to give it a go, you can expect White's odds to go down, regardless of where Podladchikov ends up on the boards. His injury will likely keep him out of the top spot, but that just means that a savvy bettor can make a mint picking him to win the event.
If you're going to legal betting sites to bet on the Men's Snowboard Halfpipe at the PyeongChang 2018 Winter Olympics, you might want to wait a few days for confirmation from Podladtchikov's camp on whether or not he'll be suiting up for an official run. Something tells me that, as the Winter Games only come once every four years, he's probably going to give it a go. He made the trip to South Korea, after all.