Taking a Loss: Famed Gambler Billy Walters Sentenced for Insider Trading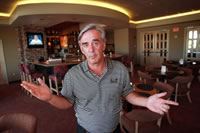 Billy Walters, a famed gambler and legend to many within the industry, was sentenced to 5 years in prison on Thursday, stemming from insider trading charges. After a gambling career that's earned him the title of richest sports bettor in history, Walters allegedly participated in a stock scheme worth $43 million.
Walters was found guilty on all 10 of his charges back in April, which included securities fraud, conspiracy, and wire fraud. Allegedly taking place from 2008 to 2014, Walters' was convicted of receiving (and using) insider information from the former chairman of Dean Foods Co., Thomas Davis, with whom he frequently golfed. Trades based on said information reportedly made Walters $32 million, whilst helping him to avoid another $11 million in losses. Davis was later a key witness for the prosecution.
Golf pro Phil Mickelson was also briefly caught up in Walters' scheme, profiting around $1 million from ill-gotten stock tips. Mickelson was ultimately cleared however, as it was deemed he did nothing but accept seemingly innocent stock tips from a golf-buddy, i.e. Walters. He was ordered to pay back the $1 million in unsavory profits, though.
U.S. District Judge Kevin Castel freely tore into Walters regarding his actions, calling him "a cheater and a criminal, and not a very clever one". Before that, he characterized Walters as a rich Vegas celebrity who was driven by greed and the need to be a winner, describing his crime as "amateurishly simple", with a paper trail that made his conviction inevitable. All this scolding was a preface to Walters' 5 year prison sentence, which was accompanied by a $10 million fine as well.
Walters' reputation had clearly proceeded him, which did not bode well. To his credit, more than 100 friends and supporters wrote to the court seeking leniency, many of them referencing his history of charitable donations; among those supporters were tennis legend Andre Agassi, an ex-Senate Majority Leader of Nevada, and several professional golfers.
Walters' defense team sought leniency from other angles as well, such as his old-age (71), health problems, and need to care for his mentally-impaired adult son. All of these were ultimately denied. What's more, Judge Castel rejected Walters' request to remain free on bond while he seeks an appeal; Walters is scheduled to surrender himself on October 10th.
Walters summed up the situation in post-trial comments, admitting he'd just lost "the biggest bet" of his life.
Back to LegalBettingSites.com