New Sports Betting Proposal Smoke Screen For Further Government Interference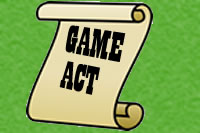 Proponents of legal sports betting rejoiced last week when it was announced that the House Energy and Commerce Committee was planning on putting forth a bill that would repeal the outdated ban on sports gambling, PASPA. The bill, called the Gaming Accountability and Modernization Enhancement (GAME) Act, is currently in the "discussion draft" phase. Sponsors are still seeking opinions and input from representatives and senators before putting together the actual bill in its entirety. After taking a closer look at the proposed legislation, it can honestly be said that it's going to need as much help as it can get.
The bill, being heralded a win for federalism and a returning of constitutional rights to states, might not actually be all it's cracked up to be. The draft outline that has been released by Representative Frank Pallone, the Democratic Representative from New Jersey, includes a number of troubling elements. Its loose definition of gambling includes several activities that pose potential problems for both federal and state law if included in the final draft. It also infringes on state rights and expands federal control. We'll touch on each issue.
The very loose and far-reaching definition of "gambling" in the bill is troublesome, to say the least. The bill might be headed for some rough waters unless things chance. Some of its biggest opposition will come from those who fall under the broad definition of gambling, mainly the Daily Fantasy Sports Lobby. The full definition of "bets or wagers" can be found on page 12 of the proposal, in Section 6. Definitions, subsection 2 Bet or Wager – subparagraph (A) in General –
"The term bet or wager means the staking or risking…something of value, including virtual currency or virtual items that can be sold or otherwise exchanged for cash … upon the outcome of a contest of others, a sporting event, a game subject to chance, or a game in which the outcomes reflect the relative knowledge and skill of the participants, upon an agreement or understanding that the person or another person will receive something of value in the event of a certain outcome."
This portion of the bill clearly means to cover Daily Fantasy Sports. Daily Fantasy Sports CEOs have been fighting against such a definition for quite some time, lobbying heavily at the state level in order to get legislation passed that would legalize their businesses. This raises a number of issues.
Some states (12, as of the last count) have legalized DFS, stating that it is not covered under the definition of gambling. This was backed up by the 2006 passage of a federal law called the UIGEA, which expressly stated that Fantasy Sports were exempt to the anti-online gambling law. If the GAME Act is passed into law, not only would it be in contention with another federal law, but it would also put the federal government in opposition to several state laws. Because of this, DFS proponents are expected to fight this bill with everything they've got.
That's not the only place this bill will face opposition, though. As it stands, the bill also gives the government a heavy hand. It re-appropriates funds in the Department of Health and Human Services (DHHS). You can see this on page 9 of the proposal, under Section 5. Gambling Addiction Prevention and Treatment, Subsection b. subparagraph (1) Establishment. It gives the DHHS the ability to create a "Gambling Addiction Research Advisory Committee" to "coordinate research conducted…on gambling addiction".
That wouldn't be such a bad thing, as preventing gambling addiction is important, especially since the bill would make the so-called vice readily available across the US. But here's the kicker – it comes out of the funding from the Center for Disease Control and Prevention, to the tune of $5 million a year. That's a lot of money being taken away from a pretty powerful lobby. So you can expect some fights over this portion of the bill, as well.
Most glaringly, though, the sponsors of this bill have claimed that the GAME Act is a return to federalism. Opponents of PASPA's main argument for the law's repeal is that it is unconstitutional, violating the 10th Amendment's state sovereignty protections. And on the surface, the GAME act does return power to the states, giving them the ability to decide on their own whether or not they want to regulate sports betting. But if you dig just beneath that, you'll see that it actually expands federal power, not state authority, mainly giving the Federal Trade Commission (FTC) outright control.
If we take a look at Section 2. No Federal Liability For Gaming Activity Lawful Under State Law, this section in and of itself does not seem like a bad thing – rather, it outlines how consumers would be protected under the new GAME act when it came to legal sports betting venues. But if you head to Subsection C. Federal Trade Commission Filing, you'll see that it expands the powers of this government entity.
In the subsection, it states that "A gaming facility that accepts bets or wagers from persons in more than one state shall submit to the Commission a description of how the gaming facility has complied with the law of each such state." This, in addition to the provision in Section 4. Enforcement gives the FTC the regulatory authority over gambling in the United States. With these provisions, a state could legalize and apply for a license for legal sports betting, and the FTC could deny their request.
This will be a big "no-no" for Republicans. Conservative party members are hesitant as it is to legalize sports betting or even to expand gambling. But some might consider a compromise if they are receiving a smaller governmental oversight in exchange. As the bill stands now, however, Most Republicans – even moderates – would vote it down.
After taking a second look, this bill is looking more and more like a smoke screen for increased federal power. In a Congress that is controlled by Republicans, a bill that expands gambling and governmental power is DOA – Dead on Arrival. But, it is still a discussion draft, as sponsors have said. Hopefully, this will all get cleared up before legislation on sports betting sites is presented to the floor.