How To Know If My March Madness Bracket Is Legal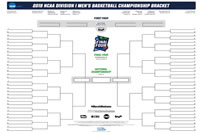 March Madness is right around the corner, and with that being the case millions of Americans will be participating in their traditional office bracket pools. But, even though sports betting is becoming common practice in some states, are the pools you join legal?
Many people don't think twice about this question and based on the numbers it shows. Last year the American Gaming Association (AGA) estimated about 24 million Americans bet on the tournament with about $10 billion dollars in total being wagered. They also estimated that only 3% of those wagers were made legally.
While the odds for selecting a perfect bracket are against you, the odds of you creating a legal bracket can be heavily in your favor by following a few simple rules.
Common March Madness Bracket Pool Rules To Follow
Top Pick Scenarios
Check Your State Gambling Laws – While this one may seem obvious, it's important to note that only 13 states have laws explicitly pertaining to independent betting pools. This will also be important when trying to assess legal gambling ages in your state.
Don't Host Your Pool Online – Even if your state has legal online betting sites, those sites have been approved by the state and your betting pool most likely won't be. In order to avoid any legal trouble, you'll want to steer clear of any temporary websites or social media sites for hosting your contest.
The Outcomes Have To Be Even – Everyone involved should have an equal chance of winning. This also means that the person organizing the event can't take a cut for handling the pot.
This year will once again see billions of dollars being spent on March Madness wagers, but by following these simple steps you can help to ensure that your bracket pool is legal and your winnings are fair.