NFL Injuries: Jay Cutler Confirmed To Have Multiple Cracked Ribs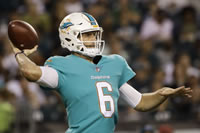 On Monday, Miami Dolphins head coach Adam Gase confirmed during a news conference that quarterback Jay Cutler has "multiple cracked ribs".
The starting quarterback suffered the injury during Sunday's 31-28 win over the New York Jets. During the third quarter, Cutler took a huge hit from Jets linebacker Jordan Jenkins. Before exiting the field, Cutler completed 12 of 16 passes for 138 yards and threw two touchdowns. Matt Moore took over the quarterback position after the hard-hitting play.
The obvious question is whether or not Cutler will be making an appearance in Thursday's game the Baltimore Ravens. It's likely that Moore will be the starting quarterback, which worked to the team's benefit on Sunday. The backup QB threw two touchdown passes on Sunday, which helped the Dolphins go from trailing by 14 to securing the win.
During the interview, Gase was also asked about if Cutler would automatically resume the starting quarterback position once healthy. He made it clear that his focus was on getting through Week 8.
"You're getting way ahead of me, because with this quick turnaround I'm really focused on this week. When we get through Thursday, we've got our bye weekend, and then I'm able to see where we're at — the total picture and the health status of a lot of different people. I'm not ready to go anywhere near anything with the quarterback. I know who is available this week."
Prediction For Dolphins Vs. Ravens in Week 8
As we head into Thursday night's matchup at M&T Bank Stadium, the Baltimore Ravens are home favorites. The Ravens have gone 6-1 in the last 7 meetings with the Miami Dolphins. The Ravens are 3-4 SU and 3-4 ATS this season, but have been able to cover the spread in all seven recent games against the Fins.
Matt Moore has an impressive history when it comes to stepping in for the Dolphins' star quarterbacks. On Sunday, he was 13 of 21 for 188 yards, two touchdowns, and an interception. Moore had a 102.9 passer rating and the offense scored 17 points with him at center. The Dolphins were blown out in their final two games of last season, but Moore went 3-1 and was able to lead Miami to the playoffs while Tannehill was out injured.
The Dolphins are 4-1ATS in their last five October games and 12-3 ATS in their last 15 games during Week 8. Moore definitely revitalizes Miami's offense, while the Ravens are scoring 16 or fewer points in three out of their last 5 matchups. Presumed to be a low scoring game, just taking the points on the Dolphins might be a smart move. The Miami Dolphins are 3-point underdogs over at legal betting sites like Bovada Sportsbook.