Johnson vs Borg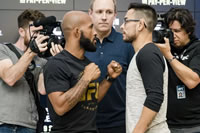 With a title like that, it leaves little room for confusion as to where this writer stands on the matter of Demetrious Johnson's unprecedented 10th-consecutive title defense bout, but there's more to this history-making fight than its obvious historical significance.
In this scribe's humble opinion, Johnson's fight tomorrow night against young up-and-comer Chris Borg, is and will be the MMA fight of the year. That's a bold statement, but if you consider the kind of year we've had across the panoply of combat sports, what we need is an honest-to-goodness honest man's fight with an honest outcome. And Johnson, well-deservedly known as "Mighty Mouse" not just for his diminutive 5-foot-3 stature, is honestly the best pound-for-pound fighter in the world.
Let's take it point by point: Johnson is the undisputed flyweight champion and has been for five years. His reign has seen the lightweight strap change hands no less than five times in that same span, working its way eventually from the soft-spoken Benson Henderson (who as recently as Sept. 23 began a 180-day medical suspension from the Bellator MMA promotion) into the meat-hooks of one very loud Irishman, Floyd Mayweather's new best friend, Conor McGregor. Johnson has faced all comers in that five years, and would have (perhaps should have) faced T.J. Dillashaw in tomorrow night's 10th title defense, but the level of competition he's faced up to this point could fill the pages of a history book.
He's beaten fighters like Joseph Benavidez (twice), submitted submission specialist Chris Carisao, bested Japans best 125-pounder in Kyoji Horiguchi, and many others – and usually in spectacular style. Known for his lightning-fast strikes and wicked subs, Johnson is a man to be feared inside the Octagon, and Borg – amusing and strangely intimidating nickname "Tazmexican Devil" aside – should be worried. Frankly, he should be thankful that he is even getting the opportunity to be a part of the history that will unfold tomorrow night when Johnson eclipses the title-defense record set by the legendary Anderson Silva.
The points it, LegalBettingSites.com this is going to in all likelihood be a very lopsided fight. Just for example, the leading legal offshore sportsbook site Bovada.lv (along with most other betting outlets online and in Vegas) are handicapping this fight heavily in Mighty Mouse's favor. Johnson is looking at -1,200 odds to win. That's doesn't exactly represent tremendous value to any except the most well-heeled sports bettors, but it does speak to the bookies' confidence that they won't be having too many takers on the other side of the betting line, as they're listing Borg at a phenomenal +700 to win. Newsflash: he's not going to, not unless a meteor crashes into Johnson's dressing room.
However, Johnson/Borg is about more than just this fight in particular. It's about the whole state of modern MMA and the rest of combat sports as well. Just recently, but particularly within the last few years, fans of boxing and MMA have endured some of the most disgusting displays of corporate creed and, if we're being honest with ourselves, corruption the sports have seen in modern times. The list is a long and undignified one: Incredibly obvious decisions against Manny Pacquiao in boxing matches against journeyman fighters, disgraces from the likes former UFC light heavyweight champ Jon Jones (who was stripped of his title more times than we can count due to drug violations), the contrived, farcical "Superfight" between Mayweather and McGregor, and the obvious cash-grab that was the trilogy ensuring call of "draw" in the legitimately superior matchup in late September of this year between Canelo Alvarez and Gennady Golovkin.
Shams and shenanigans like all those are the reasons why what the public needs to believe in the sports they love again. And if Johnson and Borg can't give us an honest fight that's honestly decent – it doesn't even have to be exciting, just legit – then combat sports can possibly survive. But if that's not the case, and this fight is marred by pro wrestling-style antics or some crazy and phoned-in decision, then I don't blame a single person if they give up altogether. There's always NFL football to watch, right? Nothing controversial or disquieting going on there.