The State Of Kentucky Advises Kentucky Derby Attendees To Get Hepatitis A Vaccine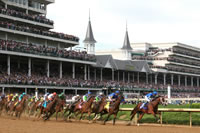 Let's face facts: a Hepatitis A outbreak is just shy of rampaging through several Kentucky counties right now, and it would be an unmitigated disaster if that outbreak spread elsewhere around the world due to the Kentucky Derby.
The debut of the 144th annual running of the Kentucky Derby, the longest continually held sporting event in America is also one of the most heavily attended single day sporting events in the world, with yearly attendance figures topping out in excess of 170,000 people. Right now, the nascent Hepatitis A outbreak has already impacted slightly more than 300 people in Boyd, Bullitt, Carter, Greenup, Hardin and Jefferson Counties, and at least one of the infects persons has died due to contracting the disease, which targets the liver and has flu like symptoms. That last county listed is, of course, the one in which Louisville, the 29th most populous city in the entire country is located.
You do the math. Things could turn real bad, real fast. Accordingly, the state of Kentucky's Department of Public Health (DBH) is strongly encouraging anyone interested in attending the Kentucky Derby come May 6 to get vaccinated as soon as possible. It only makes sense considering the highly contagious and infectious nature of the virus, which is transmitted through contact with an infected person, and can be passed on to others via bodily fluids or food and water that was touched by an infected person. As those are all likely scenarios at a gathering of nearly 200,000 people like the Kentucky Derby, the DPH's warning should in no uncertain terms be heeded by everyone planning to head to Louisville for Derby Week.
"Hepatitis A is a vaccine-preventable illness," the Department of Public Health's acting Commissioner Dr. Jeffrey Howard said in a general statement to the national media. "DPH recommends all children, ages 1 year through 18, receive the Hepatitis A vaccine, as well as adults who want to prevent themselves from an acute Hepatitis A infection. In these counties with local transmission of the Hepatitis A virus, we recommend everyone be vaccinated per guidelines to help stop this outbreak."
However, LegalBettingSites.com knows even these sensible precautions may not be enough to entirely stave off the possibility of contracting Hepatitis A if you are among the massive crowd in the stands at Churchill Downs. That's because the recommended vaccination schedule for Hepatitis A involves getting two doses of the vaccine six months apart, though Howard did recommend going ahead and having a dose now while there is still time. Anything is better than nothing in terms of preparedness, and getting an initial dose of the vaccine would go a long way toward avoiding coming down with the virus.
Most states around the country already require the full schedule of Hepatitis A vaccinations for school children - and Kentucky is one of those states – but this is not the requirement everywhere, especially not in some of the countries from which visitors are likely to be traveling to watch the Derby. Kentucky, and Louisville in particular, are hoping to avoid a similar situation faced by San Diego, California, which last year endured a Hepatitis A outbreak last fall that killed more than a dozen people before it was brought under control.
Given the massive crowds expected for this year's Kentucky Derby, these measures are really the least the state can do to protect the droves of horse racing fans on hand for the historic 144th annual running of "The Fastest Two Minutes in Sports."