Kentucky Derby Superfectas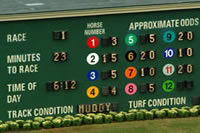 When it comes to putting money on the ponies, no race in the world sees more action than the Kentucky Derby. But picking WPS is only a moderate challenge (and it doesn't cost more than a few dollars for most punters). Thus, the big money is spent on exotic bets, with the grandest payout always coming by way of the superfecta. But the most enticing Kentucky Derby bet is harder than it seems. Much harder.
Why? Well, first you have to understand that if it looks too good to be true, it probably is. Knowing this, bookmakers at Churchill Downs, simulcast facilities, and legal online racebooks all try to sweeten the pot to lull you into a false sense of confidence. Case in point, you can box your superfecta bets to include more than 4 horses, so that any winning 4-horse combination of those 5 or more horses you've chosen will win the wager.
Sounds easy, right? I mean, with all the hype surrounding the top 2018 Derby entrants, any old Joe should be able to pick the 4 top finishers in the field. Justify (7/2) seems like a sure thing to finish in at least 4th place, as does Mendelssohn (4/1), Audible (11/2), and Magnum Moon (6/1). If you were to box only these four horses in a superfecta, it would cost you just $24, and you could win $70,000-plus! But remember, you can add more horses to the wager, giving you more chances to strike on a winning ticket combination.
The most common boxed superfectas are for 4, 5, 6, and 7 horses, but you can box as many horses as you wish. Financially, of course, there is a limit to how much sense that makes, as you will see. Here's how much boxing your superfecta at the Kentucky Derby will cost with each additional horse (based on a $1 per line bet, with the profit cutoff based on 2017 Derby payouts):
Profit
5-horse superfecta: $120
6-horse superfecta: $360
7-horse superfecta: $840
8-horse superfecta: $1680
9-horse superfecta: $3024
10-horse superfecta: $5040
11-horse superfecta: $7920
12-horse superfecta: $11,880
13-horse superfecta: $17,160
14-horse superfecta: $24,024
15-horse superfecta: $32,760
16-horse superfecta: $43,680
17-horse superfecta: $57,120
Marginal
18-horse superfecta: $73,440
Loss
19-horse superfecta: $93,024
20-horse superfecta: $116,280
If you have a whole lot of money to wager, boxing a huge superfecta makes financial sense (mostly) up to a certain point. The 2017 Kentucky Derby superfecta winners got a payout of $75,974.50. That means that with the number of wagers placed on superfecta tickets (which always varies, keep in mind), last year you could have boxed 18 horses and still made a couple thousand dollars. Of course, you can't be sure how much you stand to win until all bets are in and the bookmaker takes their cut before portioning out the remaining pool. (It is also important to recalculate these odds per a reduced field if fewer than 20 horses are running in the Derby.)
Obviously, huge boxed bets are a strategy for professionals who don't mind big risks with minimal returns, so it isn't a viable option for most horseplayers at the Kentucky Derby. Far more likely are superfecta boxes of 5-10 horses, which can still offer tremendous payouts on increasingly diminished risks. That said, it's still not close to a sure thing.
To prove that point, consider that the largest "common" superfecta boxes at most racebooks are 7-horse combos. Now, look at the top 7 horses on the betting boards for this 144th Run for the Roses: Justify (3/1), Mendelssohn (5/1), Magnum Moon (6/1), Audible (8/1), Bolt d'Oro (8/1), Good Magic (12/1), and Vino Rosso (12/1).
Using the top 7 odds standings as a cutoff for the seven most "reasonable" horses to take the top 4 spots, here's how the last 10 Kentucky Derby races have fared when superfectas were picked using the 7 most favored ponies. (This list will show any horses that were outside the top 7 favorites on the betting boards to actually finish somewhere in the top-4 positions:
2017: Lookin At Lee (20/1) finished 2nd, Battle of Midway (30/1) finished 3rd
2016: All four places won by horses with top-7 odds
2015: All four places won by horses with top-7 odds
2014: Commanding Curve (50/1) finished 2nd
2013: Golden Soul (50/1) finished 2nd
2012: Went Well That Day (20/1) finished 4th
2011: Animal Kingdom (30/1) finished 1st
2010: Paddy O'Prado (20/1) finished 3rd, Make Music for Me (50/1) finished 4th
2009: West Side Bernie (30/1) finished 1st (with all top four finishers tied with or having worse than top-7 odds)
2008: Denis of Cork (27/1) finished 3rd, Tale of Ekati (37/1) finished 4th
As you can see from the above, in the last 10 Kentucky Derby races, only twice (2015, 2016) would a 7-horse boxed superfecta have paid out. That's a 20% success rate. Of course, given that the price of such a superfecta ($840), betting this strategy over the last 10 years – conservatively using $60,000 as a superfecta payout, which is likely below the average for this timeframe – would have netted you $113,280 ($120,000 in wins minus $6720 in losses).
For longer-term horseplayers, this is a winning strategy, at least recently. However, if you're the one-and-done-if-you-don't-win type, a "sure thing" superfecta is far from money in the bank (or, at least, money in your bank). Still, if you go into the Derby with the mindset that you will wager per these rules every single time, you will eventually get one heck of a payout at legal betting sites.
How many mint juleps will $100,000 buy?