Legal Washington DC Sports Betting To Be Delayed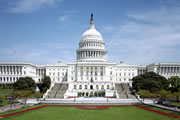 Last Tuesday marked yet another major hurdle in getting legal sports betting in Washington DC into the hands of local retailers and residents. The D.C. Council has waved the emergency status of the bill, allowing citizens to voice their opinion on the matter of who will operate the city's sportsbooks.
For a while it seemed as though everyone was on board and retailers were gearing up to start offering sports gambling sometime in the summer of 2019. The bill was originally passed as an emergency measure that wouldn't require a public hearing, but because of recent internal debate, lawmakers found it best to have residents weigh in on the issue.
Council member Brianne K. Nadeau supported this initiative stating, "I've just not seen anyone demonstrate that this is an emergency situation." While there is still no set date for a public hearing quite yet, local DC sports fans should take time to familiarize themselves with the choice they have.
What Is The Real Reason For The Hold-Up
The bill puts the new Office of Lottery and Gaming in charge of overseeing the industry. Intralot is the company that powers the cities lottery, and because of that, Lottery officials have urged Council members to let the same company operate sports betting in DC as well.
They claim that this will expedite the bidding process between third-party sportsbook operators and will bring the ability to wager on sports sooner to residents. Beth Bresnahan, the D.C. Lottery Executive Director, also argued that "the costs of delay are significant".
However, others are not so sure that is the best course of action. When asked about third-party bidding, Daniel Wallach, a lawyer specializing in sports betting, claimed: "They're designed to promote competition and ensure that the public gets the best deal possible."
Although, timeliness is on everyone's mind as lawmakers in both Virginia and Maryland are looking to get a jump on collecting additional tax revenues from sports betting.
What Makes Legal Washington DC Sports Betting Different
For a while, it seemed the wheels of bureaucracy were turning rather quickly for legal sports betting in Washington DC. It was back in last September when the Sports Wagering Lottery Amendment Act of 2018 was first introduced by Councilmember Jack Evans.
The bill was originally titled B 22-944 (*http://lims.dccouncil.us/Download/40922/B22-0944-Engrossment.pdf *) and after a few months of review and back and forth negations in regards to integrity fees, the bill ultimately passed without them in mid-December.
States that have just recently started to allow sports betting have anticipated its arrival for longer than most think. While many state legislators were waiting to see what would happen to the federal law PASPA, casino owners all around the country began to partner with sportsbook operators.
Once PASPA was repealed by the US Supreme Court and states were able to start creating regulations around sports wagering, those same casinos already had systems in place to run it efficiently. Washington DC is different because there are no casinos or sportsbook operators in the district.
What Sports Betting in Washington DC Will Eventually Look Like
Wagering on sports is expected to be offered in person and over your mobile device at each professional sports team's stadium. Approved restaurants, bars, and retailers will also have the privilege to accept bets as well.
For now, residents will have to travel to West Virginia to find legal sports gambling. But, given the wide range of accessibility to come, sports betting in DC will surely be worth the wait. Until then, players can go to legal betting sites and play from home.