Legalizing Sports Gambling In The United States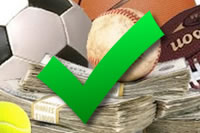 Back in April an anonymous AFC owner of the NFL told MMQB that "Sports gambling is going to be legal. We might as well embrace it and become part of the solution, rather than fight it. It's in everyone's best interests for it to be above-board." This came directly after Roger Goodell was adamant about the NFL's stance on sports betting, saying that they are still opposed to the legalization.
Fast forward a month later and the NFL and Roger Goodell have contradicted themselves on the topic of sports betting in the NFL on a number of occasions. One thing is for sure though, and that is that the fight to legalize sports betting in the United States is one that is quickly picking up steam. Even several other pro sports leagues like the NHL and NBA have expressed their interest and recognize the benefits associated with such a change. Even with that being the case, legalizing sports gambling in the United States won't happen without some significant changes first.
Federal Sports Betting Restrictions
There are two federal sports betting restrictions that everybody needs to understand. The biggest one is the Professional and Amateur Sports Protection Act, most people know this law as PASPA. PASPA prohibits the operation of sports gambling businesses inside of the United States. In fact, PASPA is being used as the excuse for why New Jersey shouldn't be allowed to provide state-sanctioned sports gambling opportunities. New Jersey is in the midst of a legal battle with the NCAA and most pro sports leagues, including the NFL as they have taken their case for legalized sports betting to the Supreme Court. PASPA clearly holds a lot of merit when it comes to this topic so if there is going to be a change, PASPA would need to be repealed or amended.
The second federal law that some like to use as an excuse is the Federal Wire Act. This law, passed back in 1961, prohibits the use of wire communication in correlation with sports gambling transactions. Because of the age of this law, this has largely been irrelevant after the widespread popularity of internet gambling became the norm because the law's definition wasn't perceived to include a means of communication that didn't even exist yet. However, Attorney General Jeff Sessions believes the law should be revised to include internet gambling in its meaning. In fact, he wants it to apply to any communicational technology that could go across state lines. This is a big potential roadblock for those hoping for legalized sports gambling in the United States.
Time For States To Act
Ultimately, states that are in favor of gambling on sports need to work together to address the Professional and Amateur Sports Protection Act (PASPA) and the Wire Act if they want to make any significant changes in the near future. Nothing will happen without a conscious effort by all parties in favor of sites for legal betting in the United States.