MLB Commissioner First to Speak as Tide Turns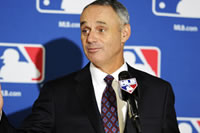 Major League Baseball Commissioner Rob Manfred recently became the first to speak out for his organization amid the rapidly forming landscape of potentially legal sports betting. With the history of professional sports leagues being staunchly opposed to sports betting, collectively suing places like New Jersey (2012) to block its legalization, this pivot may come as a surprise. But, with a PASPA review by the Supreme Court officially on the horizon, we're seeing that even the largest ships move with the tide.
What He Said
Manfred, speaking to the Baseball Writers' Association, expressed MLB's need to be involved in the creation of any regulatory framework, a sentiment likely to be echoed by other league commissioners in the coming months. Manfred cited the possibility of a "significant change", referring to the repeal of PASPA, going on to say that MLB and its owners were figuring out what their collective positions would be within the new landscape.
Some wonder whether or not this inevitable change of tune comes as too little, too late. It's a move as natural as it is awkward, to want a seat at the table you previously hoped would never be set. Furthermore, it seems a bit far-fetched to think MLB (or any other league) would ever get to have meaningful input anyway, seeing as any repeal would likely hand power over to the individual states.
Where Others Stand
No other leagues have issued public statements, however NBA commissioner Adam Silver has expressed sentiments similar to Manfred's in the past, revealing a strong desire for influence that alludes to some degree of openness on the issue. Though, like MLB, the NBA has always displayed a preference for some sort of "federal framework", likely because it would allow for more influence by the league. Given a scenario in which regulation becomes a state-by-state issue, the leagues would largely be left out, hence the push by MLB to position themselves early enough.
Others, like the NFL and NHL, appear to remain adamantly opposed, publicly knocking the merits of legal sports betting, a move some would call ironic as both leagues prepare to move franchises to Las Vegas. Either way, it's highly expected for them change their tune as well, when the time comes. Opponents of legalized sports betting are quickly finding themselves in a 'can't beat em, join em' situation.