NASCAR Announces Sports Betting Content Partnership With Action Network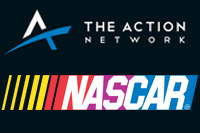 NASCAR has joined forces with Action Network for sports betting content.
NASCAR is hoping that this partnership will bring more interest to the sport.
More sports betting partnerships are expected with NASCAR.
DAYTONA BEACH, Fla. – NASCAR has announced that they have entered a partnership with Action Network to provide sports betting content on legal betting sites.
Details Of The Partnership
The NASCAR website goes into a bit of detail about what the partnership means for them. The main component is that the NASCAR site will now feature content from Action Network. This includes picks for the new fantasy props game, NASCAR Props Challenge.
That isn't all that is going to happen. Action Network will also make picks for who will win upcoming races and show matchups between drivers. This too will be shared on the NASCAR website.
Other Partnerships In The Works
This isn't the first sports betting partnership NASCAR has formed. The league has also partnered with Genius Sports as well. This partnership makes it so only Genius Sports can have access to official NASCAR data. They are also in charge of developing live betting for NASCAR events.
NASCAR officials are hoping by driving into sports betting, they can generate viewership and interest for the sport. Viewership for NASCAR has been in a decline since 2008. This is despite the deals the league have made with Fox Sports and NBC Sports that allows them to broadcast NASCAR races.
The officials from the league believe that sports betting will draw a brand-new crowd around the motorsport. One of the factors to this point is that NASCAR drivers are allowed to take sponsorship from sportsbooks and sports gambling providers. By having sportsbook logos on their cars, fans might be led to betting on races which will further drive their engagement with the races.
Another way the league is driving into sports betting is through Speedway Motorsports. This is a company that hosts NASCAR and other motorsport races. The company is now offering on-site gambling options by offering lottery games called Car Cash to drive further engagement with NASCAR fans. Car Cash randomly selects a car number and the ticket will payout depending on the results of the race.
This isn't likely going to be the last partnership NASCAR will have regarding sports betting. The announcement with Action Network on the NASCAR website said that this partnership "is the latest in a series of partnerships designed to prepare NASCAR, the industry, and fans for the future of sports betting in the U.S."