Nearly 1000 Vegas Super Bowl Props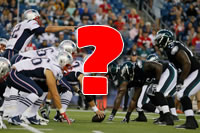 So far, there are a whopping 948 Super Bowl prop bets available among the many Las Vegas sportsbooks, and the mainstream media is taking notice. Of course, in order for there to be so many props on the big game, a good many of them (frankly, most of them) are pretty outlandish in nature. After all, that's one of the big draws of Super Bowl betting in general, that you can wager on literally anything you can think of, even it's just tangentially related to the contest in question.
For example, you can bet on this scenario: Will Rob Gronkowski's longest catch be for more yards than the number of points Kyrie Irving scores Sunday against the Trailblazers? Well, that seems reasonable. This one does too: Will Tom Brady have more rushing attempts than the number of yellow cards issued in Sunday's Premier League matchup between Liverpool and Tottenham? Will the San Jose Sharks score more goals on Sunday than the number of yards Dion Lewis racks up on his first rush of Super Bowl 52? Will Jordan Spieth have more 4th round birdies at the Waste Management Phoenix Open than Gronk will have Super Bowl LII receptions? Will Kevin Durant score more points in Saturday's game vs. the Nuggets than Tom Brady will have SB completions? And the list goes on.
Of course, as the media swoons over the sheer multitude of Super Bowl bets being offered in Las Vegas, anyone who frequents the top legal online sportsbooks knows that Vegas isn't the only game in town. In fact, Vegas isn't even the biggest game in town, as – when you combine all the different props available at just the top three or four Internet betting shops (Bovada, BetOnline, SportsBetting, BetDSI, etc.) – you'll get a whole lot more options and a whole lot more action than Sin City has to offer. At BetDSI, you can bet on things like whether or not Bill Belichick wears a hoodie during the game (Yes, -115), and – if so – what color it will be (Grey, +120). Same for defensive coordinator Matt Patricia. Also, you can wager on whether or not the winning team visits the White House (yes, -200, but dang that mean ol' Donald Trump!) or the number of Anheuser-Busch commercials to air during the Super Bowl 52 broadcast (over 4.5, -165). And so on (and on, and on).
To get the full gamut of both normal and off-the-wall Super Bowl prop bets, it's best to sign up at multiple legal betting sites and keep checking their boards every day between now and kickoff this weekend. It's part of the magic that makes Super Bowl betting such a huge event for the gambling community, and it's a huge draw for first-time bettors and seasoned vets alike. Best of all, you don't actually have to be in Nevada to get all the Vegas-style Super Bowl bets you can handle. In fact, you don't even have to leave the house. All you need is a computer or mobile device, an account at one or more legal online sportsbooks, and an Internet connection. Happy betting!