New Patriots Scandal: Signal Gate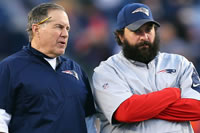 First there was SpyGate. Then there was DeflateGate. What would the NFL postseason be without an overblown and unsubstantiated Patriots scandal to whip up ratings? Well, it wouldn't be a New England postseason, that's for sure. And this year, like clockwork, there's a new Patriots scandal: SignalGate! SignalGate comes courtesy of sore loser Steve Spagnuolo, the Eagles linebackers coach back when the Patriots beat Philly in Super Bowl XXXIX. Naturally, Spagnuolo believe that those pesky Patriots not only filmed their practices but that they actually stole their playbook! Heist!
Said Spagnuolo, "I remember [defensive coordinator] Jim Johnson saying to me, 'They know our signals, do your best to disrupt them.' In hindsight he was right. It was evident to us, we believe Tom [Brady] knew where we were pressuring."
Good heavens! I mean, it isn't as if NFL quarterbacks – even ones that aren't objectively the best to ever pick up a football – don't routinely sniff out and adjust to the areas where the defense is "pressuring" them. Similarly, it isn't as if NFL coaches – even ones that are objectively the best to ever draw up a play – can't recognize in-game trends and adjust to those selfsame trends accordingly.
All of this sounds like sour grapes from Spagnuolo, and it seems like a preemptive way to excuse an Eagles loss to the Pats come Super Bowl 52. As such, it's ill-timed. That game was 13 years ago, and nobody on the current Eagles roster was among those "slighted" by those devious Patriots shenanigans. On the other hand, Tom Brady and Bill Belichick were around back then, and this might be "bulletin board material" for the old guys as they try to win an unprecedented 6th Super Bowl together.
The Eagles are only 4.5-point underdogs to the Patriots, which is an accomplishment in itself after their MVP-caliber QB went down with a torn ACL in Week 14. To win – and they can win – they'll need to play a near-perfect game on both sides of the ball. It's not as if the Pats need any extra motivation to do what they do, but this jab could give them exactly that. Still, I doubt the Pats cover, as they're only 2-5 ATS in Brady-Belichick Super Bowls at legal betting sites. However, who knows what the best ever might do with a little extra boil in the blood? Perhaps it was strategery like this that cost Spagnuolo and his Eagles the first time around.