NFL Already Promoting Vikings-Patriots Super Bowl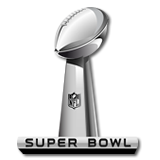 Even though the AFC and NFC Championship games have yet to be played, the NFL seems to have decided that the New England Patriots and the Minnesota Vikings will be appearing in Super Bowl LII.
On Tuesday, the official NFL Facebook page posted an advertisement for a free trip to Super Bowl LII that featured the Patriots and the Vikings. While this alone would not have raised too many eyebrows, it was the caption that may have struck a nerve with Eagles and Jaguars fans:
"When you donate to United Way, you could score 2 club-level seats to watch the PATRIOTS vs. the VIKINGS battle it out for the coveted Super Bowl title!"
The post was deleted on Friday, but had already caused an uproar with conspiracy theorists. As if the advertisement was not enough, Google has also added fuel to the fire with preemptive search results.
When users would type in "New England Patriots Super Bowl appearances" and similar searches for the Vikings, the Super Bowl LII graphic was listed along with their other appearances. Again, this would have been less of a big deal if the graphic showed up for all remaining teams, but there was no mention of Super Bowl LII when Googling the Eagles or Jaguars. 12UP shared a snippet of the search on Twitter.
Apparently Google can predict the future? pic.twitter.com/RBWELxhon0

— 12up (@12upSport) January 19, 2018
While it was most likely some sort of clerical error, there is no doubt that fans of the Jaguars and Eagles will be eying the refs more than usual during Sunday's Conference Championship games.
Goodell Taking The Stand Could Be Huge
In reality, these coincidences were likely just that – coincidences. Even if the NFL and Google truly did think that the Patriots and Vikings have some sort of edge over the Jags and the Eagles (which again, unlikely), apparently so do millions of NFL fans.
If you go to Bovada Sportsbook and check out their Super Bowl Futures, you can bet on the exact Super Bowl matchup. There are -105 betting odds on a Patriots vs. Vikings Super Bowl, making the matchup the odds-on favorite.
The Jacksonville Jaguars and Philadelphia Eagles are both legitimate Super Bowl contenders, and you can also find odds for these teams to represent the AFC and NFC. There are +210 odds for the Patriots vs Eagles, +525 betting odds for the Jaguars vs Vikings, and +850 odds for the Jaguars vs Eagles.