NFL Playoff Wk 1 Jags Bills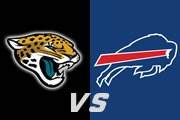 While most high-octane NFL playoff games are remembered for epic defensive stiflings or studly QB showdowns, the Bills vs. Jaguars is a different kind of quarterback duel. Granted, both teams involved in Sunday's early game (1:05 PM) are long-shots at most legal online betting shops when it comes to winning the Super Bowl outright, not many bettors saw the two clubs even making the playoffs. But now that they have, there's a real chance that one of them could make an historic NFL underdog run to the title game. First, though, one of them is going to have to prevail this weekend in Jacksonville, where the Jaguars are -9 favorites (which makes them, incidentally, the biggest favorites of the entire wildcard round).
The real intrigue for the Bills vs. Jags hasn't got as much to do with their NFL playoff odds as it does with the two signal callers slated to start. On the Jags side, Blake Bortles – who showed flashes of brilliance this year – is still trying to convince the Jacksonville franchise that he can be their franchise quarterback. And in some respects, he's done just that, but many analysts haven't gotten on the Bortles bandwagon just yet. Sure, he's led his club to 6th in the league for total offense, but he has yet to replicate the sheer volume of his 2015 campaign when he threw for 35 touchdowns. So, even though the Jags have exercised their option on Bortles for the 2018 season, they could still move in a new direction after these playoffs. A bad performance against the underdog Bills (the Bovada Bills moneyline is +300) would almost surely cause Jacksonville to look elsewhere in the offseason.
Similarly, the Bills have a decision to make at quarterback as well. Starting quarterback Tyrod Taylor is 7-year NFL veteran, and while he put up 14 TDs to only 4 INTs on the year (and rushed for 4 more), he's not showing the early flashes of dual-threat ability he demonstrated just one year ago. Taylor is signed to a potentially hefty 6-year contract worth up to $112 million, but very little of that is actually guaranteed. Buffalo limped into the playoffs down the stretch, their last several wins coming against sub-.500 squads, and they currently have the longest odds to win the Super Bowl at +10000. A poor showing by Taylor could mean the end of his de facto starting position with the Bills. Like Bortles, Taylor is very much auditioning for his future leadership position in Buffalo.
Most quarterback duels involve gun-slinging hall-of-famers, but again, the Bills vs. Jaguars is a different kind of quarterback duel. Here, whether you bet on the Jags or put action on Buffalo, what you're really betting on is which of these two competent NFL quarterbacks will do more to convince their respective clubs that they deserve the reins for another season. Our guess at LegalBettingSites.com? Bortles gets the win and another year at the top, while the Bills start reshuffling the deck in a disappointing offseason.