New Jersey Racks Up Legal Bill North Of $7 Million In US Supreme Court Case Against PASPA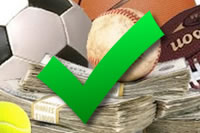 The Garden State's case to get PASPA declared unconstitutional by the U.S. Supreme Court is reportedly going to cost the state more than $7 million in legal fees.
That might seem like a lot of scratch – and it is – but it almost assuredly will amount to a pittance if PASPA (the shorthand name for the Professional and Amateur Sports Protection Act of 1992) is stricken from the federal rolls, making sports betting legal at New Jersey's Atlantic City casinos and beyond. Indeed, should the highest court in the land decide in favor of New Jersey's claim that PASPA's prohibitions on its being able to start legally regulating sports betting (as its legislature passed laws to do way back in 2014) are a patent violation of the 10th Amendment, then the effects could be far reaching indeed.
The benefits of a PASPA repeal could be monumental as well. It is estimated that the annual handle taken in by sportsbooks – the ones on the Las Vegas Strip and the so called "gray market" ones operating online out of foreign countries overseas where federal laws do not apply – clocks in somewhere on the high side of a figure between $150 billion and $250 billion. If PASPA gets the axe, then not only could New Jersey start hosting sports betting, so could potentially dozens of other states all around the county, and that means that all the states interested in doing so could potentially cash in on tens of millions of dollars in additional tax revenues year after year.
Needless to say, it in all likelihood will not be too terribly difficult for New Jersey, which has got the most highly developed gambling industry in the eastern half of the US and the second biggest in the country after Nevada's, to pay back whatever it owes in legal fees.
So far, New Jersey's case before the Supreme Court has been handled by two different local firms, Gibson Dunn & Crutcher and Gibbons P.C., over the last five years. The Garden State's case alleges that PASPA's prohibitions against sports betting everywhere except Nevada, Oregon, Delaware and Montana represent a violation of the Garden State's right decide whether it can regulate its own sports wagering marketplace.
The $7 million New Jersey owes to these two firms for services rendered is broken down like this: Gibson Dunn & Crotcher has represented NJ from the start of 2012 through August of 2017, for which the state was billed $5.6 million, while the other $1.5 million-ish is due to Gibbons P.C. for their services, which go from December of 2012 through February of 2018. The latter law firm also billed the Garden State's Sports and Exposition Authority $77,000 for legal guidance it Gibbons P.C. provided over a few months between Nov. 2014 and Jan. 2015. Regardless, the money needed to pay these fees is earmarked to come from the revenue generated by the Garden State's casinos, racetracks and lottery show runners – the same source that final bill is expected to come from when the whole case is wrapped up.
As for that case, New Jersey could probably stand to win quite a bit if it took the going odds on its success in getting the Supreme Court to declare PASPA (long in the tooth though it is) unconstitutional. If that transpires, the projected payout is expected to be a fairly sure thing but at the same time it should be a decent payday for those interested in taking a bet on whether or not betting on sports is made more or less legal nationwide. The current odds on PASPA being overturned at situated at -185 on the moneyline, or 7/13 in fractional odds, which darn close to certain, while the odds on sports betting being made legal nationwide – probably by Congressional fiat – by 2020 are right at +2000.
That last bit is worth bringing up, as many people, even those who have been following this case for years are not entirely clear on what the purpose of Murphy v. NCAA is. Though the effect of PASPA being struck from the federal legal rolls by a majority vote of the Supreme Court justices would be that New Jersey and other state could legally enact regulatory legislation to make sports betting legal in their jurisdictions that is not technically the point of the case. New Jersey's congressional delegation, led by former Gov. Chris Christie (the case used to be called Christie v. NCAA but was changed to its current name after current Gov. Phil Murphy was elected last year), went all in as far as contending that PASPA was a case of the federal government commandeering the states themselves in order to enforce federal law.
Technically speaking, commandeering in this instance would involve the federal government's acknowledgement that individual states – where sports betting would actually take place – might try to pass laws protecting their own sports wagering marketplaces the same as Nevada has long since done. In that case, by passing PASPA roughly a quarter of a century ago, the U.S. Congress instigated a law that would violate the rights of the various states and in such a way that it used that violation of states' rights to prop up its own federal level ban. Pretty much, New Jersey is only arguing for the right to host its own sports betting options within its own state lines, but it is hard to imagine that other states would fail to use this opportunity as a precedent for enacting their own laws legalizing, regulating and, most importantly, taxing the revenues generated by sports betting.
If the scope of the case is limited – on paper anyway – to what New Jersey is allowed to do or is disallowed from doing, then why are the legal bills so high? Nobody can say for sure, but we think it has a lot to do with the broader implications of a ruling in the Garden State's favor, and that does not just mean as regarding a repeal of PASPA and what that could do to roll out more broadly legal sports betting options across the country.
One of the most compelling theories we could come up with is that the Supreme Court is using Murphy v. NCAA is actually being "used" by the U.S. Supreme Court to decide, in a more generalized context, the role played by the interaction between federal and state laws. If that supposition proves to be the case, then a PASPA repeal could have a huge impact on the ongoing nationwide arguments over such divisive topics as gun control, for instance. That is especially relevant given the changing political climate around the country, starting with the richer and more left-leaning coastal states and those with massive metropolitan population centers, even if they don't care or have not historically made a big deal about sports betting legalization one way or the other.
Nevertheless, it seems like a done deal that sports betting will be made legal, and sooner rather than later. The U.S. Supreme Court could have issued a ruling on the PASPA case as recently as a week ago on April 2, but the justices elected to table the issue for another few weeks. While it is true that they could call for a vote and release the Court's collective decision on April 17, the smart money says that proponents of sports wagering will likely end up waiting until the middle of the summer – say the start of June or thereabouts – before the justices coalesce around a ruling. At any rate, a SCOTUS decision will with all probability be released before the end of the 2018 term and won't be pushed back to the 2019 term, which starts this October.
There really is too much public momentum behind the push for sports betting legalization, as so many of the millions of sports bettors around the country simply head online to get in on the action at legal offshore sportsbook sites. Nowadays several of the major pro sports leagues – most notably the National Basketball League, Major League Baseball and the US PGA Tour – have also thrown their considerable weight and influence behind sports betting legalization as a major reversal of a longstanding opposition to the issue (the leagues were the primary reason PASPA was passed in the first place, after all). The leagues are lobbying hard in more than a dozen states to get the various legislatures to pass laws regulating sports in such a way that the leagues themselves get compensated and have broad powers over what happens with the data collected on players – some of which are already proving unpopular with state lawmakers. However, in essence the only real opposition that still exists to legal USA sports betting is the NCAA, but the organization's arguments against it – that nobody should profit off the performances of unpaid athletes – is fairly spurious at this point as billions are bet on college football alone year in and year out.
When you consider all the facts and all the factors at play in this situation, it seems pretty obvious that New Jersey has this case on lock down. As we await the final decision on legal betting sites from the U.S. Supreme Court, and as the tens of millions of sports bettors all over the country wait with baited breath what the justices will say, it is perhaps important to understand just what it took to get to this point. When it comes down to it, all the Garden State had to do was be patient, gather consensus from its lawmakers, take action and pay a fairly paltry amount to two law firms. It's an example many other states around the country are liable to take heed of in the future when they suspect a federal law may be impinging on their sovereign rights.