Odds On The Winner Of Puppy Bowl XIIII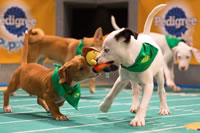 Shockingly, there are people who actually care about setting aside two hours of their life to watch a television program devoted to showing a bunch of puppies playing with toys in a simulated "sporting event."
It's called the Puppy Bowl, there have been 13 editions, it's a massive ratings hit with the millions of viewers that tune in and nobody really knows why. Let's be real here - this event is as phony as the manufactured "Vladimir Putin himself hacked the 2016 presidential elections" scandal, and the Puppy Bowl's persistent popularity is proof that many grown adults in the 21st century are effectively the psychological equivalent of little children.
The whole affair of the Puppy Bowl basically involves setting up cameras at various places around a 19-foot mock-up of a football stadium while (admittedly adorable) puppies of varying sizes variously pick up, throw down and chew on squishy toys. Footage taken over ruffly (heh heh I mean roughly) 50-70 hours is then spliced together into something that somewhat resembles a cohesive game between competing "teams" of puppies – those being Team Fluff and Team Ruff. Only puppies between 12 and 21 weeks old are eligible to participate in the show, and, naturally, there is also a maximum size restriction due to the teensy dimensions of the arena, so the cuteness factor is at least partially to blame for why so many people tune in to Animal Planet during the Super Bowl timeslot year after year.
And yes, hundreds of thousands of Americans are expected to place wagers on the outcome of the Puppy Bowl. Because of course they are. It's almost like grown adults slavishly devoting whole days of their life and much of their mental energy to watching other grown adults carry a ball from one end of a field to the other isn't a harsh enough indictment of our collective cultural mental state. At least Super Bowl 52 might have some good commercials in between shots of Tom Brady and Nick Foles throwing nonstop touchdowns all night, right?
As of now, BetDSI.eu, which is widely regarded by the sports betting community as having the most absurd (and often the most fun) Super Bowl prop bet and special bets section out of all the operators in the crowded legal online sports betting marketplace has moneyline odds of -115 for both Team Fluff and Team Ruff. It's actually fairly uncommon for the Puppy Bowl matchup to be so close, but Team Fluff reversed a two-year losing trend to post a massive 93-38 victory over Team Ruff at Puppy Bowl XIII, hence the equal odds this time around. It's been reported that the key "players" on each team are Chihuahua mixes, as these "breeds" are expected to turn their small size into an advantage over bigger, heavier dogs despite a differential in bite/grip strength.
I can't believe I just wrote a breakdown of the odds on a fake pseudo-football game played between teams of cute shelter dogs. I can't believe people bet on it or watch the whole thing when the actual Super Bowl is also being broadcast at the same time on a different channel. But I guess if much of the interest in football itself comes from sports bettors (especially not with an estimated total Super Bowl betting handle of nearly $5 billion for 2018) then it really shouldn't be a huge surprise to anyone if we were to find out that millions of Americans are actually watching Puppy Bowl XIIII just to wager on it.
At any rate, silly as the Puppy Bowl might be, at least it isn't the most inhumane sport between dogs that NFL fans (and, lest we forget, some players) enjoy betting on at legal betting sites. Seems like there's always a silver lining.