Roger Goodell Doesn't Know What The Super Bowl Is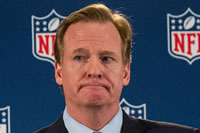 As the worst commissioner in modern American sports (and perhaps the worst commissioner ever), Roger Goodell is always challenging himself to top his last bout of idiocy with another, more ridiculous stance or assertion. Well, he's done it again, because apparently, Roger Goodell doesn't know what the Super Bowl is. Not really, anyways. I mean, he's aware it exists, but he doesn't really grasp the reason it's so popular. Need proof? Roger doesn't like sports betting.
Case in point: Being that it's Super Bowl Week, ol' Rog' showed up to the Golic and Wingo show on ESPN (because where else would terrible go to be interviewed?), where he was asked about his thoughts on the (probably imminent) legalization of sports betting across America. The table was set, of course, by New Jersey's current PASPA challenge before the Supreme Court, heightened in its irony by coinciding with the world's biggest sports betting event in the Super Bowl. This question, canned though it was, made Roger kinda uncomfy.
After presiding over a year of hugely diminished ratings and billions of dollars in losses due to a brand image tarnished six ways to Sunday, the lawyer in Roger simply didn't have the spine to appreciate the ratings boost that sports betting – in both Las Vegas and at legal online sportsbooks – has consistently given his league. See, Roger doesn't care about money (except for his salary and free healthcare and private jets for life, apparently because $200 million doesn't go as far as it used to). All Roger really, truly cares about is the integrity of the game. Sayeth the sage: "To me, it's very clear, which is about the integrity of the game, you don't want to do anything that's going to impact negatively on the integrity of our game." He then mumbles on, repeating the old "integrity of the game" chestnut a few more times before the hosts got sick of his answer to a simple query about sports betting.
How the guy figures that state-controlled sports betting would be worse for this so-called "integrity" than the estimated 97% of NFL betting that already takes place via the "black market" is as befuddling as how he figures it's fair to suspend superstar players for not beating their girlfriends or to suspend head coaches for not ordering bounties or to suspend Hall of Fame quarterbacks for the air pressure in footballs in the referees' charge. It's safe to say that if Roger is against something, you should probably look long and hard at that something – and then you should probably support it.
Of course, deep down Roger is aware that Super Bowl betting at legal betting sites is a hugely lucrative market that does nothing but drive up ratings even when he's done nothing himself to help the NFL. He knows that sports betting is a large reason why millions of people even tune into the NFL week after week during the regular season and playoffs in the first place. And he knows that, without Vegas, without legal online sportsbooks like Bovada and BetOnline and BetDSI, without the billions upon billions of dollars spent by fans betting on his sport, the NFL wouldn't be able to put on a Super Bowl spectacle half as successful as Super Bowl LII is shaping up to be. Either that, or – really and truly – Roger Goodell doesn't know what the Super Bowl is.
In any case, someone should tell him not to bite the hand that feeds him. Apparently, though, that someone needs to carry a little more clout than Jerry Jones or Robert Kraft or Tom Benson. And frankly, that might not be possible.