Roger Goodell On Sports Betting Hot Seat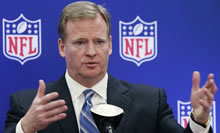 Roger Goodell and the NFL have been dancing around the topic of sports betting for years now and it's about time we get some straight answers from the Commissioner.
Recently, the USA Today published a couple of reports about how inconsistent the NFL has been on the oft-debated issue of sports wagering and some very interesting news came forth. Perhaps the most intriguing bit of information was the fact that there was a time where Goodell could have been questioned, under oath, about him and the NFL's views on sports gambling.
For over a year now, the league has been involved in an ongoing lawsuit against a non-profit corporation. They are seeking up to $100,000 after the NFL forced a charity event, from said non-profit, that featured NFL athletes to move from a bowling alley because it was inside of a casino. The NFL argued that it violated league policy but the non-profit corporation is arguing that the league tried to them a cash bribe to make up for it.
That's not all though, the plaintiffs have been trying to get Roger Goodell on record for a while now and on Thursday, the charity requested that Roger Goodell testifies in front of a federal judge about what his views are on sports gambling and how he interprets the league's policies. The request took place in a courtroom in Dallas, Texas and a notable quote from the proceedings was "Mr. Goodell alone is charged with interpretation and enforcement of the gambling policy that served as the basis for relocating the charity event,"
Goodell Taking The Stand Could Be Huge
Goodell is constantly spouting the same old shtick about how the NFL has remained opposed to sports gambling and blah blah blah blah blah but the Raiders move to the gambling capital of the world in Las Vegas doesn't support that claim.
If Goodell were to take the stand and discuss legal sports betting, he would have to be more direct and specific on the issue, which is what we have all wanted all along. Sports attorney David Wallach tweeted out that the NFL would also need to answer to a lot of new sports betting developments saying:
— Daniel Wallach (@WALLACHLEGAL) June 11, 2017
If anything, just getting him to testify would finally force the NFL into a definitive answer to its continuously vague logic on its opposition to gambling at legal sports betting sites.