Shaun White Considers Competing In Tokyo 2022 Skateboarding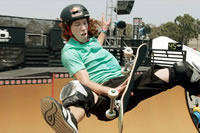 Coming hot on the heels of a history-making halfpipe run that saw him take his third Olympic gold medal and America's 100th, Shaun White intimated that he may be interested in a return to the Olympics…and maybe not for snowboarding.
White told reporters Wednesday that he is considering competing at the Tokyo 2020 Summer Games in time for the debut of skateboarding. Nothing is set in stone, however, as White is still weighing his options, since prepping for an Olympics-tier skateboarding event – a discipline at which he hasn't competed in any capacity since he won the Vert at the 2011 X-Games – would quite naturally take away from training for the 2022 Winter Olympics. Just the possibility of White competing in Tokyo (especially in a brand new Olympic sport) and taking another stab at fourth snowboarding gold in Beijing is enough to make any sports fans consider possibilities like seeing history made again, the man himself is still undecided about his future.
Yeah, right. Shaun White is nothing if not a competitor – and he'd have to be to go up against and beat a crowd of competitors in their late teens and early 20s when he's now north of 30 years old – so he is probably leaning toward competing some more.
"I think I will carry on," White told media reps that have swirled around him in the wake of his gold medal hat trick. "My big choice now is to go for the Summer Games or not. I'm excited about it. The motivation will be there. Just to get to go to the Summer Olympics would be amazing…I'd just love to give it my all and see what happens."
If White does make the move to compete at Tokyo 2020 in skateboarding – and win a medal in doing so – he would be just the sixth athlete to make it onto the podium at both a Summer and Winter Games, and the third American. Interestingly, if White (known as the "Flying Tomato" for his bright red hair) were to rack up Winter and Summer Olympics medals, he'd be the second American with Irish roots to do so, and exactly 100 years after Eddie Eagan won gold in the light heavyweight boxing division at the 1920 Summer Games.
White might have some fight left in him, but his usually extra-supportive family was just about ready to beg him to throw in the towel after a bad crash in training for PyeongChang 2018 left him hospitalized in the ICU with 62 facial stitches in October 2017. Though he pushed through to secure his third gold medal (and the Olympics have only awarded four) in snowboarding despite that resistance, White's longtime coach JJ Thomas has gone on record as questioning the motivation behind his charge's apparent desire to add Summer Olympics glory to his impressive resume of hundreds of career wins. Thomas seemed to raise the possibility that White could be letting the rush of winning another gold medal – and in such spectacular fashion – go to his head.
"Really, it's about mindset after this," Thomas told reporters. "He needs to ask himself if he really needs [to win a gold medal in skateboarding at the Tokyo 2020 Summer Olympics]. What does he have to prove after [winning gold in PyeongChang]? I don't know. These are questions he needs to ask himself."
Like all of the successes (and some of the failures) in White's career leading up to his greatest triumphs, Legal Betting Bites thinks hhis future prospects of further history-making feats is figuratively – and literally – up in the air.