Tiger's Biggest Win Is Sportsbooks' Biggest Loss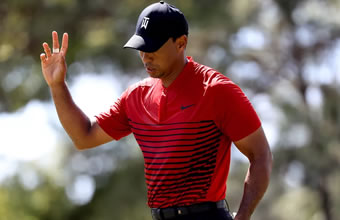 Tiger Woods defied long odds to win his fifth Masters (and first major in 11 years).
FanDuel, DraftKings, and William Hill each suffered seven-figure losses on the tournament.
ATLANTA – The 2019 Master's was an historical tournament in the annals of golf, with Tiger Woods clawing his way back to relevance – and more – after suffering the most ignominious, protracted collapse in sports history. Nobody thought Tiger would ever win a major again.
Well, none of the major sportsbooks did, at least.
Here are some of the baffling odds offered and losses suffered by major sports betting operators during this Masters tournament that culminated in Tiger's fifth green jacket (and first since 2005):
William Hill, New Jersey
William Hill's New Jersey operation posted a $2 million-plus loss, including an $85,000 wager at 14-1 (+1400) that paid out $1.19 million.
One out of every three bets taken by William Hill for the Masters was on Woods. Of all the sportsbooks reporting their numbers, William Hill lost the most money.
FanDuel, New Jersey
FanDuel opened the Masters with 18-1 odds on Tiger, and wagers on Woods accounted for about 21 percent of all bets placed on the tournament.
FanDuel lost $1 million on the sports betting end of the Masters equation, but they also lost another $1 million on their fantasy sports Masters promotion – the Mega Eagle Daily Fantasy Contest – in the form of entry-fee refunds.
DraftKings, New Jersey
After the third round of the Masters on Saturday, with Tiger in second place two strokes off the lead, the book increased its odds from 3-1 (+300) to 10-1 (+1000).
DraftKings then boosted Tiger's odds to 15-1 (+1500) for most of the final round on Sunday, despite Woods still being in top-level contention.
By Sunday, 60 percent of DraftKing's action was on Woods. Typically, such a scenario results in diminished (or shortened) odds with lower payouts, not longer odds with higher ones. DraftKing's losses were not specified, but the book was over $1 million in the red.
BetStars, New Jersey
This smaller book – a partner brand of the PokerStars behemoth – took a smaller loss than others on the list, but its 100-1 Tiger promo ($10 limit) was popular, paying out $1000 to each lucky bettor who took a comparatively tiny risk on the GOAT.
Primarily as a result of this promotion, BetStars lost upwards of $360,000 on the Masters.
So What's Really Going On Here?
The conventional reaction to this apparent disaster is that these sportsbooks are too new in the unique US marketplace or too incompetent, or both.
Another option, of course, is that they're neither.
Remember, golf is very much an international sport. This isn't the NFL or college football. It isn't even baseball or hockey. Golf is played all over the globe by high-level professionals from nearly every region on earth.
Sportsbooks like William Hill are relatively new in the US (on an expanded basis), but they've been offering odds on golf for nearly 90 years. BetStars has been around for 18 years.
Legal betting sites like FanDuel and DraftKings are newer brands, but their sports betting leadership teams are industry veterans, and they're no strangers to the strategies of sports betting.
Going further, notice that the industry's major losses were posted by big-name books in New Jersey, all of whom have expanding interests in other newly-legal US betting markets.
Vegas books, for example, are reporting only sparse, isolated losses on this year's Masters. The biggest loser seems to have been the Westgate SuperBook, which reported a loss in the "high five-figure" range.
It is possible – and even plausible – that these very bettor-friendly terms on Tiger's Masters run were specifically designed to grab headlines if Woods won.
No matter where you read about this historic victory, you're going to see all this betting news in tow, with expanding sportsbook brands mentioned by name. Part of what defines Tiger Woods beating all odds is, of course, those odds themselves.
And if you combine each of these books' losses, you have what amounts to a single half-minute Super Bowl advertisement. Those tend to go for about $4 million, making this resultant sportsbook coverage a comparative bargain for everyone involved.