Todd Pletcher Inks Deal With Ram For 2018 Kentucky Derby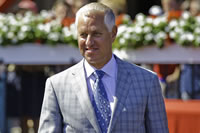 Only Thoroughbreds can participate in the Run for the Roses, but this year you can also expect to see a lot of Ram. Todd Pletcher, seven-time award winner of the Eclipse for Outstanding Trainer, has agreed to a sponsorship deal with the Ram Truck Brand ahead of the 2018 Kentucky Derby.
Pletcher, with his team at Todd A. Pletcher Racing Stables, will be donning Rams gear throughout the entire Derby Week. You will also be able to spot Pletcher's horses and jockeys in Ram Truck branded outfits, including custom blankets for the colts after workouts.
"Ram has been a long-time supporter of the Kentucky Derby and horse racing," stated Pletcher. "I'm a big fan of the brand. We've developed a great relationship over the last couple of years and we are looking forward to teaming up with them at this year's Derby."
Pletcher has four races in the running for the 144th Kentucky Derby title. Audible – who has been making headlines for its exclusive sponsorship with Amazon – is the Florida Derby winner and is a 13/2 favorite in the race. Magnum Moon, the winner of the Arkansas Derby, is another favored horse with 15/2 Kentucky Derby odds. Noble Indy is considered somewhat of a longshot at 30/1 odds, while Vino Rosso is in the middle of the field with 12/1 odds to win the Derby.
This year is not the first time that Ram has reached out to Pletcher and his team. After Always Dreaming won last year's running of the Kentucky Derby, Ram gifted Pletcher with a completely custom Derby edition Ram 2500 truck. The renowned trainer, in turn, donated the value of the truck to Thoroughbred Aftercare Alliance and New Vocations – two nonprofits that focus on Thoroughbred aftercare.
Pletcher has only had two Kentucky Derby wins, but his overall status as a Triple Crown trainer is much more impressive. With 43 entries, he has the second-most Kentucky Derby starts in history. Pletcher has three Belmont Stakes wins - Rags to Riches in 2007, Palace Malice in 2013, and Tapwrit in 2017. Pletcher does not often enter horses in the Preakness, but he does have two third-place finishers under his belt.
With half of the Pletcher quartet favored and the other half showing promise, LegalBettingSites.comit's likely that at least one of his 2018 Kentucky Derby starters will finish in the money come Saturday at Churchill Downs.