First Look: US Sports Betting Bill Would Require Fed Approval For Sports Betting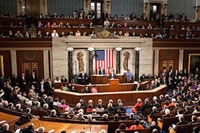 Just as the dust has started to settle from the landmark Murphy vs. NCAA ruling, an entirely new type of storm is forming; a Utah Senator has reportedly introduced a sports betting bill that would empower the U.S. Attorney General to approve state-level legalization.
Inside The Bill
Reports indicate that the draft bill was put forth by Senator Orrin Hatch, one of the sponsors of the Professional and Amateur Sports Protection Act (PASPA) that resulted in a monopolized U.S. sports gambling industry for decades.
In the six months post-PASPA, the bill is the first piece of proposed legislation that would put power over sports betting back in the hands of the federal government. Here are some of the main points of the 37-page discussion draft:
States would have to submit an application to the Office of the Attorney General for approval before enacting any sports betting legislation.
The AG would have 180 days to approve or deny the application. If approved, a state would have to submit a renewal for authorization every three years.
Until December 31, 2022, sportsbooks would have to acquire official data supplied by sports leagues in order to determine betting outcomes.
A portion of the current .25 percent federal excise tax on legal sports gambling would be allocated into a newly designated "sports wagering fund".
States and Indian tribes would be able to enter into interstate agreements, accepting sports wagers across state lines.
Creates a National Sports Wagering Clearinghouse to collect anonymous wagering information and monitor suspicious betting activity.
How It All Works
Certain aspects of the draft bill would require an overhaul of existing laws in order to be enforceable. The ability to form interstate sports betting compacts, for example, would require a change to the 1961 Federal Wire Act.
As written, the Act could be interpreted to ban the transmission of sports bets from state-to-state, although there is language that seems to exclude relationships between states that have legalized sports gambling.
Hatch's sports betting proposal would amend the Wire Act to authorize the activity with certainty, although each state would need to seek approval from the federal government. The details of these contracts between states, tribes, and the government have yet to be discussed.
The portion of the bill that requires sportsbook operators to use official league data is another gray area that would need to be addressed. With eight states already passing legal sports betting laws without the mention of using data provided by leagues, it is unclear what steps these states would have to take.
If the new US sports betting bill were to pass, we could have another situation where states are grandfathered in – once again reminiscent of PASPA.
Even with the robust nature of the document, it still remains a draft bill at this point. There have already been multiple states to legalize sports gambling at legal betting sites in the wake of the federal ban being lifted, and numerous states have announced plans to move forward in 2019.
With the prospect of federal oversight once again looming, the US sports betting bill from Sen. Hatch may drive additional states to move forward with legislation before potential government interference.