Why A Partial Repeal Of PASPA Is The Worst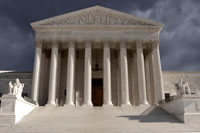 Whatever the U.S. Supreme Court decides to do about the Professional and Amateur Sports Protection Act of 1992 (PASPA) and the state of New Jersey's case against the sports betting law, the country won't be waiting long to find out.
The highest court in the land has three different decisions before it – or at least three main plausible choices – for what the nine justices should do regarding the future of nationwide legalization for sports betting, and the SCOTUS could release its decision by the end of the day on April 17. Whether the Supreme Court issues a ruling today or in June at the end of its 2018 term, the most obvious outcome for Murphy v. NCAA (the case brought against PASPA by the Garden State's congressional delegation) is also the worst possible one for most of the interested parties involved. That's because, far from striking down the federal law that prohibits sports betting in all but four states (Nevada, Delaware, Oregon and Montana) or upholding the law – that would be the "everything or nothing" situation – top gambling experts think the most likely SCOTUS decision is a partial repeal of the law.
Basically, the Supreme Court is probably going to rule in favor of New Jersey's 2014 sports betting law (which allows NJ casinos and horse racing tracks to offer wagering on sports) by saying it has not violated PASPA while maintaining that PASPA is still constitutional. A decision like that is would enable the Garden State to go ahead and further diversify its already highly developed gambling industry but simultaneously would not allow any of the other 46 states prohibited by PASPA from regulating their own sports betting markets to do so. All the work done by the nearly two dozen states in recent years to pass laws (or come close to passing laws) to regulate and tax sports wagering would be for naught, and the legal situation – at least at the federal level – would remain as it is now.
"Courts tend to rule on the facts of the cases before them and go no further than necessary to resolve the pending dispute," said Lawrence Walters, a First Amendment attorney who specializes in gambling law, speaking to reporters this week. "The Court will not necessarily consider policy arguments in deciding a purely legal issue. So, whether one ruling or another is the best way to regulate sports betting is not a matter for the Court to resolve. A full repeal would not be required to resolve the current dispute, but it is within the power of SCOTUS, since the constitutionality of the statute has been challenged."
Essentially, what Walters is saying is that the Supreme Court has the power and the authority to strike PASPA from the federal legal rolls, but it is not strictly speaking necessary to do so just to give New Jersey what it is asking for. Lest the sports betting community forget, New Jersey would still be in competition with neighboring states for gambling revenues whether PASPA remains the law of the land or not, meaning it is actually in the Garden State's advantage for the SCOTUS justices to issue a narrow ruling solely in its favor. It is not simply as though New Jersey has taken upon itself the mantle of securing a future for sports betting for every state in the entire country (though that would probably help its case or at least offset the tremendous pressures being exerted against the NJ effort by the major sports leagues).
There are several ways forward for the other states interested in offering sports betting at their authorized wagering locations if PASPA is left intact by the Supreme Court's ruling. They can, like New Jersey has done at the expense of a not inconsiderable $7 million and counting fight their own States' Rights battle with the Supreme Court, but that could take years – just as it has for New Jersey – and may prove inconclusive for a whopping waste of taxpayer money. Alternatively, the states, seeing New Jersey's hypothetical success in that regard, could pass laws that authorize in state operators to offer sports betting at casinos, riverboats, card rooms, racinos, lottery booths or even online, but they would not be able to regulate any inter-state commerce nor even legally tax the practice.
However, the whole reason why the states – many of which, like Louisiana, West Virginia and even California are desperately in need of a shot in the arm of new tax revenues – want to legalize, regulate and tax sports betting in the first place is to make money off of legal sportsbooks. If they can't tax bookies in their borders and collect application fees and other authorization payments and so on, the second option is not likely due to the time element involved. We tend to think that in such a situation it would not be any worse for the betting public simply to stick to legal offshore sports betting sites they are already using. Indeed, the vast majority of the American sports betting handle (worth an estimated $150 billion to $250 billion annually) goes through these overseas operations that cannot be taxed and are not subject to federal or state regulation.
That being said, if several or all of the states interested in legalizing and taxing sports betting start making waves at the federal level, jostling for their 10th Amendment rights vis a vis deciding what kinds of wagering they should have a say over inside their own jurisdictions, Congress could step in. For what it's worth, that is basically the gist of the backup plan favored by New Jersey if the Garden State's 2013 sports betting law is deemed to be in violation of a constitutional PASPA. Walters agreed in his statement, basically reinforcing the notion that the duty of the U.S. Supreme Court is not to create new law but merely to issue as narrow a ruling as possible as to whether or not a given law is merely constitutional.
No matter what, it seems that the preponderance of public opinion in the current day milieu is in favor of allowing sports wagering or at least making it an activity that is not punishable by a fine or time behind bars – or both. That means PASPA's days are numbered in the long run as current lawmakers at the federal level age out and new blood that does not have a problem with sports betting takes the reins of political power in the Congress and on the Supreme Court decades down the road. However, even in the shorter term, if Congress were to issue a repeal of PASPA, it seems increasingly likely the other federal laws designed to curtail, contain and counter various kind of wagering – we are looking at you, Wire Act of 1961 and Unlawful Internet Gambling Enforcement Act of 2006 (UIGEA) – are similarly going to be paying a visit to the chopping block.
"It seems likely that Congress would get involved if several other states started following New Jersey," Walters wrote in his analysis. "Even if New Jersey loses the SCOTUS case, it seems unlikely that PASPA will survive as it currently stands. Federal lawmakers may be incentivized to act regardless of how the case is determined."
This whole situation makes it abundantly clear just how bad a partial repeal would be for all parties involved. A partial repeal that leaves PASPA in place but allows New Jersey to go ahead with sports betting would in all likelihood result in a melee of state level laws that benefits nobody.
The leagues will not get the 1 percent cut of the sportsbooks' handle (an estimated 20 percent of adjusted gross revenues – which is frankly untenable for most sportsbook operators not to mention the industry as a whole) that they are asking for in their collective "blueprint" for the kind of sports betting laws they want. The states will not easily get their 10 percent – 20 percent of taxes on revenues from sportsbook operators, nor will the casino operators get the extra foot traffic on the betting floor and in line at the bar or the buffet if they cannot offer sports betting to guests at their resorts. The members of the public will not be afforded the protections of either state or federal laws that would prevent them from potentially going to prison just for putting some money on their favorite teams.
For that reason, the outcome of the Supreme Court case that literally everyone stateside interested in the future of sports betting should be praying for is a full repeal. But let's face it, there is simply too much taxpayer money to be spent on legal fees to contest the fallout of a bad call by the SCOTUS justices and too much potential money to be skimmed off the top of handle for the leagues not to try to get what they can in terms of "integrity fees" and exclusive data rights. There is probably even too much money in campaign contributions for some members of the Congress not to pine for a chance to spend some special session political capital looking good for the casino industry with a PASPA repeal and replace.
The funniest thing about this whole debacle and its emphasis on maintaining the integrity of sporting events is how close the entire affair is to an actual criminal racket in spirit and in practice. Eventually, one has to wonder if it would not be better just to pass a blanket decriminalization of sports betting and indeed most other forms of betting and just scoop up crooks that get involved in other related slimy pursuits like tax evasion.
The way it stands now, no matter what the Supreme Court decides and no matter whether sports betting is legal around the country or just in Atlantic City and on the Las Vegas Strip, the biggest players at the table are showing their hand to the American people. The whole debate is functionally no different than a massive extortion ring and it looks increasingly likely that the taxpayers are going to wind up being on the hook for the bill. At that point, one has to ask, is it really so bad – or is it even worth the trouble – to do something other than using a so called "gray market" alternative to all the hullabaloo?
For our money, it most certainly is not. We are willing to believe that for the average casual sports bettor it isn't worth the trouble either.