Will Nsync Reunite At The SbLII Halftime Show?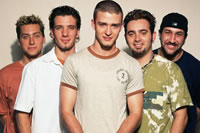 As momentous as a league record-tying sixth Super Bowl title would be for the Patriots and as much as it would mean for the Eagles to hoist their first-ever Lombardi Trophy - if we're being honest with ourselves – there's only one way we want history to be made at SBLII.
That's right, we are expecting an *NSYNC to reunite onstage at the Halftime Show.
This dream is not as far-fetched as it might sound, and could be something to legitimately look forward to ahead of Sunday night's Big Game. First of all, the other members of the chart-topping '90s/'00s boy band (Lance Base, JC Chasez, Joey Fatone and Chris Kirkpatrick) are no stranger to surprise reunions, having joined de facto frontman Justin Timberlake for a medley of the group's biggest hits during JT's 2013 MTV Music Awards performance. Then there's the fact that Kelly Rowland and Michelle Williams completed the Destiny's Child trio with Beyonce Knowles at the 2013 Super Bowl Halftime Show. Finally, Timberlake (who had his 37th birthday on Tuesday, Jan. 31), is of course known for making news when he performs at the Halftime Show, as certainly nobody can forget the now-infamous 2004 incident involving Janet Jackson's nipple-bearing "wardrobe malfunction."
SBLII will be Timberlake's third Super Bowl Halftime Show appearance, as – outside of the '04 fiasco – he appeared with all his bandmates at the Big Game's 2001 edition at the height of NSYNC's international superstar status and, as the whole world saw, right at the bleeding edge of the boy band bubble. Timberlake went on to even greater success as a solo performer (and Hollywood actor of some merit) and in fact just released his fifth album – "Man of the Woods" after about five years without a new record. This lends further credence to the theory swirling on social media that Timberlake would "get the band back together" at the Super Bowl Halftime Show: what better way to get your new album in the news than to make the news by reuniting your target audience's favorite pop super group?
We should reiterate, however, that nobody really knows what we will end up seeing at the Super Bowl, and everything we've mentioned so far are little more than hopes and prayers expressed by fans from all over the world via the internet. But that's not stopping even the most diehard of sports betting enthusiasts – presumably not the biggest NSYNC fans, per se - from getting in on the action. The bookies at legal offshore sportsbook site BetDSI (which is known industry-wide for its wild and often amusing Super Bowl specials) has a comparatively close set of odds on all the members of NSYNC making a Halftime Show appearance, with -180 moneyline odds on "no" and +150 on "yes."
For all this bluster and demand from fans online, Timberlake himself hasn't commented (or hasn't been asked enough times yet) about the possibility of reuniting with his former bandmates. Some of those other bandmates, though, haven't been as reticent to speak. Fatone (who is actually scheduled to attend another event in Minneapolis two days before SBLII) told celeb gossip rag TMZ that his proof he wasn't involved in a halftime show reunion was simple - "if [Fantone] was doing something (at the Super Bowl), [he would] be at rehearsals right now." Chasez, on the other hand, in November 2017 told US Weekly that he "always keeps an open mind" about such things as a surprise get-together performance.
No matter what happens with NSYNC, this kind of fan speculation from folks that often don't care much about pro football and the drama surrounding it is actually what is driving much of the hype for the Super Bowl itself at legal betting sites. Such are the times we live in when there's as much drama surrounding the Halftime Show as the events transpiring on the field in the first and second half of play. In a way, we can thank JT himself (and Janet Jackson's nipple) for the phenomenon.