Wimbledon 2017 Match Fixing Scandal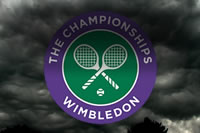 Retired English professional tennis player Tim Henman, now a board member of the All England Club, has said players should be banned from the sport for life if found guilty of match-fixing at this year's tournament.
Speaking to British reporters Friday morning, Henman said "no stone is going to be left unturned" by the All England Lawn Tennis and Croquet Club to root out possible cheating at this year's Wimbledon Championship, which wrapped up last weekend. Henman said the Club board should ban offending players for four years to life in the wake of an announcement made Thursday by the European Gaming and Betting Association (ESSA) that three matches at Wimbledon were under investigation following claims of suspicious gambling activity. Two of the matches in question were played in the qualifying tournament at Roehampton, but one was on the main draw.
ESSA's Tennis Integrity Unit (TIU) considers a betting pattern to be unusual if the size or volumes of bets varies widely from what is expected based on price corrections in the betting market. The TIU's quarterly report, also released this week, identified the three claims of suspicious activity at Wimbledon as only a small part of the 53 alerts for tennis as a whole. This is only the second time in history that any match at Wimbledon – the oldest and most prestigious tournament in the world of tennis - raised any red flags for possible fixing, so the matter is being considered as very serious indeed, as Henman's comments demonstrated.
How likely are players to be banned for life for match-fixing?
Henman was adamant that punishments should be "significant" for players that fixed matches. Wimbledon, and really the entirety of professional tennis' governing organizations, has recently made good on promises like this, in May banning Japanese player Junn Mitsuhashi for life and fining him $50,000 for asking South African Joshua Chetty to talk about fixing a match with another player in 2015. Greece's Konstantinos Mikos was similarly banned and fined for promising money to another player for taking a dive in a few sets, but was also under investigation for three other instances of match-fixing and for illegally running two gambling accounts between 2012 and 2013.
"People need to understand that if [match-fixing] does go on they're going to get caught and be punished," he told reporters with the Express, Sun and other British news outlets.
Who is under investigation for match-fixing at Wimbledon?
The TIU's quarterly report did not explicitly say which players or matches were under investigation, but alerts were raised. Fortunately for tennis fans in the UK, no British players competing at Wimbledon are being scrutinized by TIU so that means that at least top-seeded Andy Murray (who fell in the men's singles quarterfinals) and women's semi-finalist Johanna Konta are not under the gambling watchdog group's microscope.
However, this year's edition of Wimbledon was rife with unusual occurrences, not all of them bad and none directly related to the match-fixing scandal. There were a 10 instances of players retiring mid-match, for one thing, and that almost never happens at the highest levels of the sport, while the other, and certainly most historical anomaly at Wimbledon 2017 was the dominant showing of champion Roger Federer. The Swiss ace, at 35 years of age, defeated Marin Cilic to became the oldest man in the Open era to win a major tournament, the man with the most Grand Slam wins in history and only the second-ever winner to do so in straight-sets.
The Federer – Cilic match was not identified as being under scrutiny either, per the TIU's policy to not disclose subjects under investigation.
What are the implications of the match-fixing scandal for tennis?
The ESSA report showed once again that tennis led all other sports in terms of suspicious betting activity, and that's a distinction it has held for the past nine quarters running. Soccer (or Association Rules Football if you prefer) came in second place, with 15 matches identified as having suspicious betting activity, basketball was third, with five reported cases of fixing, and handball and volleyball each raised one alert in the second quarter of 2017. ESSA's next quarterly report will be released in October.
Tennis-related match-fixing alerts are down considerably in the first six months of 2017 since the same period in 2016, when there were 121 reported cases of cheating.
Original Article - July 24,2017
The 131st edition of the world's oldest tennis tournament is the source the sport's latest betting scandal, as three Wimbledon matches are currently under investigation for possible match-fixing.
The European Gaming and Betting Association (ESSA) earlier today announced that suspicious betting activity in two qualifying matches at Roehampton and one match on the main draw of this month's tournament set off alerts for the Tennis Integrity Unit (TIU). Another match at the French Open, which ran from May 28 to June 11, triggered a similar alert of possible match-fixing and is also being looked into by TIU investigators. Additionally, four matches at tour events on the Association of Tennis Professionals and Women's Tennis Association circuits are currently under the same ESSA scrutiny.
How does ESSA determine if match-fixing took place?
Though TIU officials stressed in a statement to the European press that these red flags are not, strictly speaking, definitive evidence of match-fixing, a review of the matches is still necessary in keeping with the investigative body's match alert policy. The TIU receives leads about potentially suspicious gambling activity, match-fixing being but one, from regulatory bodies and sports betting companies alike, and the watchdog organization is required by its own policy to look into all sufficiently probable instances of such cases.
A betting pattern is considered unusual by ESSA when a sports contest sees unexpected activity with regard to the size or volumes of bets, even after significant price corrections designed to deter illegal activity have been taken into account. However, ESSA only considers betting patterns suspicious after enquiries have been made and the possibility of unusual betting patterns cannot be blamed on legitimate errors – poorly made odds or a mispriced betting market, for instance. Other factors like playing conditions on the court or player injuries are also taken into account by investigators.
Which players are under investigation for possible match-fixing at Wimbledon?
Fortunately for tennis fans in the UK and for the sanctity of Wimbledon as the world's most prestigious tennis tournament, all reports as of this writing indicate that no British players are included the investigation. If those early indications prove to be correct, that means men's singles quarterfinalist and top tournament seed Andy Murray and women's semifinalist Johanna Konta are off the hook. However, the ITU was, as always, careful not to disclose any particular matches or players being considered as guilty parties at this early stage of the investigation.
LegalBettingSites.com feels there was shady betting activity going on behind the scenes at Wimbledon 2017, it wouldn't be the only unexpected happenings to take place at the tourney with its fair share of odd, and in some historic, occurrences. Roger Federer at the age of 35 won his record-setting eighth Wimbledon championship in a straight-sets victory over Croatia's Marin Cilic, extending his winning record to 19 grand slam singles titles and becoming the oldest man in the Open era to win a major. The men's bracket also saw 10 players quit mid-match – a higher-than-usual number of early retirements - but the ITU did not indicate that there is any relation between this and the suspicious matches under investigation.
What does the Wimbledon match-fixing investigation mean for tennis?
ESSA's most recent report, issued this month, indicates that tennis led all other sports in terms of suspicious betting activity for the past nine consecutive quarters, with tennis accounting for 31 of 53 cases of suspicious activity in the second quarter of 2017. Soccer came in second place, with 15 matches identified as suspicious, while five came from basketball, and handball and volleyball each had one instance of suspected fixing.
The overall number of suspicious betting activity in tennis is, however, down 27 from the same period last year. While lower levels of pro tennis are more susceptible to illegal betting practices, it obviously means more to the sport when tournaments of Wimbledon's prominence are under the microscope of watchdog groups like the Brussels-based ESSA. Lest tennis fans lose heart in the integrity of their favored sport, it should be noted that the total number of alerts for all of 2017 is 83, which is markedly lower than the 121 reported cases of fixing during the same period in 2016.
We'll have to wait until the October release of the TIU's newest batch of quarterly figures to see if the downward trend continues.