New Jersey Gets Green Light For Case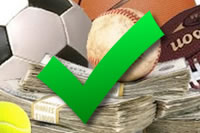 It looks like New Jersey is headed to DC to fight for legal sports betting in the state. Early Tuesday morning, the Supreme Court Consolidated two New Jersey cases (Christie vs NCAA and NJ Thoroughbred Horsemen's Association vs NCAA) and granted their petition for writs of Certiorari. NJ sports betting will finally have its day in court, after a five-year battle.
The Supreme Court has given the case a one-hour time frame in which to present oral arguments. The date for this has not been scheduled, although the timeline for briefs and written arguments has been released. A merits brief is scheduled on August 10th. Amici Briefs will be presented on August 17th. The leagues' response will be given on September 14th, and New Jersey will have a month to respond to that, giving their reply on October 14th. Oral arguments are generally scheduled between October and April.
Geoff Freeman, CEO and President of the American Gambling Association, made his opinion on SCOTUS's decision well known as soon as it was announced. "We are pleased the Supreme Court appears to have responded favorably to our arguments as to why they should hear this important case." Many other experts who had worked to get the case where it is today were also pleased with the Court granting certiorari to New Jersey.
While this was a huge hurdle that the state needed to clear on their way towards legal sports betting, there's still quite a lot to do before they can celebrate. To date, New Jersey has been brought to court on every level and lost in each subsequent court. But that means little, as the fact that SCOTUS has granted cert. means that the Justices believe there are arguments that need to be heard. The Supreme Court chooses cases based mainly on constitutional issues.
To win the case, New Jersey will have to convince at least five of the nine Supreme Court Justices that their argument has merit. NJ's main argument is that PASPA violates state sovereignty via the Tenth Amendment. But SCOTUS hasn't overturned a federal law based on Tenth Amendment violation at all this century, and only twice in the last 55 years (1992 and 1998). So New Jersey is in for the fight of its life during these next few months.
What Happens Next?
New Jersey has opened the doors for a state by state expansion of sports betting. The great thing about this case going forward is that even if SCOTUS rules in favor of the NCAA and chooses to uphold PASPA, the United States now has a guide for what to do going forward, regarding state legislation on the matter of sports betting. This is invaluable information for states like Pennsylvania, Michigan, and New York, who have all been gearing up to pass their own sports betting legislation.
But let's not get ahead of ourselves. First, let's focus on what happens after a case is granted cert. New briefs need to be filed, so New Jersey lawmakers will have the next 45 days to work on what is called a merits brief. Whereas cert briefs say why the case should be heard, merits briefs present the argument for why the case deserves to win.
"This is where I would expect to see the equal sovereignty argument – that is, the preferential treatment given to Nevada and three other states, to the exclusion of the other 46 states – play a more important role going forward." Said Daniel Wallach, a leading gaming and sports law expert from Fort Lauderdale, Florida.
According to Wallach, "Everything is now in play before SCOTUS, including selective enforcement of PASPA by the sports leagues." These points will be brought up in the state's reply, more than likely, which is due before the court by mid-October.
It will also be a point that is made in the Amici Curiae briefs that need to be filed as well. These briefs are due a week after opening arguments. You should expect to see briefs filed by all of the original supporters, like the AGA, The competitive enterprise institute, and Florida State University Law Professor Ryan Rodenberg. The five states that filed in support of New Jersey will file another joint Amicus Curiae brief as well.
"Given the high-profile nature of this case, I would expect even more groups than the original four to file amici briefs with the court," Says Wallach. Indeed, at least one new player will be joining the field of support. According to Geoff Freeman, the American Sports Betting Coalition will now be working even harder to support sports betting and to "build a system that protects states' rights, fans, and the integrity of sports."
While you should expect to see more outward support for sports betting and New Jersey, you should also see support for PASPA and the Leagues as well. They are expected to file their own briefs by September 14th of this year, and will more than likely have lots of support behind them, mainly from the anti-gambling and family values lobbies. Make no mistake, there's still a long way to go before New Jersey can say they've achieved a victory in the fight for legal betting sites.
For now, though, it's nice to see that the case is finally getting somewhere.